Chef Eric Levine's taste of tailgating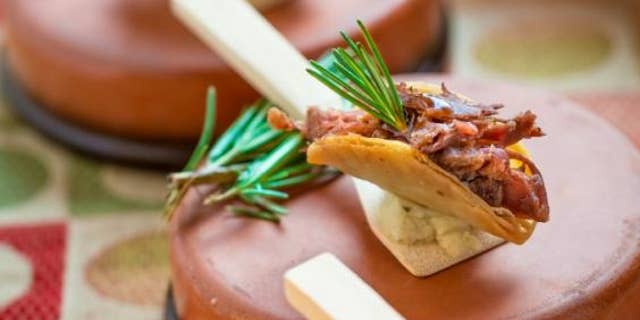 NEWYou can now listen to Fox News articles!
Check out this delicious food feud that showcases the Super Bowl rivals!
Representing Denver: Mini Braised Short Rib Taco Bites
Approximate 20-24 Bites
Ingredients: Short Ribs
3 lbs boneless beef short ribs
kosher salt
freshly ground black pepper
1/4 cup olive oil
1 large onion, diced
3 cloves garlic, coarsely chopped
1 cup tomato paste
1 cup red wine (cabernet sauvignon is good)
1/2 cup Dijon mustard
3 cups beef stock

Method: Short Ribs
Season the ribs with salt and pepper.
Heat the oil in a large heavy-bottomed pan over medium heat. Add the ribs in batches and
brown on all sides, about 8–10 minutes. Remove browned ribs from pan and set aside.
Add the onion and garlic to the pan and cook, stirring frequently, for 2 minutes.
Add the tomatoes, wine and mustard. Bring the mixture to a boil, scraping the brown bits from
the ribs into the mixture.
Return the ribs to the pan and add the beef stock. Cover the pan and cook in a 300 oven for 2-
1/2 hours, until the meat slightly flakes
Remove the ribs from the pan and remove any excess fat from the surface of the cooking liquid.
Transfer the cooking liquid to the bowl of a food processor. Process until the mixture is a smooth
sauce. Pour the sauce into a pan and keep warm over low heat

Ingredients: Mini Tacos
2ea 12-inch Flour Tortilla
Tin Foil

Method: Tortilla
Cut tortilla into 2-inch rounds
Fold tin foil into bending wave to create V shape to hold tortillas into taco shape
Place on sheet pan and bake for 20 minutes at 325f or until crisp
Remove from oven and cool, reserve for later use

Assembling This Bite
Shred short rib and lightly toss sauce into meat before assembly.
Fill mini taco shell with meat, top with rosemary if desired

Chef's Notes: These short ribs can be used in many different ways, as shown in these
different recipes. This will hold in your refrigerator for up to 2 weeks and in your freezer up to 3
months if it is properly sealed and held at appropriate temperatures.

Variations: Use pork or veal for a variation on this dish. The size of the piece will determine
how long you should cook it. For every inch go 45 minutes to 1 hour, depending on oven. You
can substitute the red wine for beer, a dark stout will help build up the earthy flavor of this dish.
Representing Seattle: Smoked Salmon Belly Rice Pop with Cucumber Dip
Approximately 18-20 Bites
Ingredients: Sushi Rice
1 cup Japanese rice
1 ½ tablespoons rice vinegar
1 tablespoon sugar
1 teaspoon salt

Method: Sushi Rice
Put the rice in a large bowl and wash it with cold water.
Repeat washing until the water becomes almost clear.
Drain the rice in a colander and set aside for 30 minutes.
Place the rice in rice cooker and add 1 ¼ cups water.
Let the rice soak in the water at least 30 minutes.
Start the cooker. After the rice is cooked, let it steam for about 15 minutes.
Prepare sushi vinegar by mixing rice vinegar, sugar, and salt in a sauce pan.
Put the pan on low heat and heat until the sugar dissolves. Cool the vinegar mixture.
Transfer the hot steamed rice to a large plate or bowl and spread it. (Use a non-metallic bowl to
prevent any interaction with rice vinegar. It's best to use a wooden bowl called sushi-oke but a
glass or plastic bowl will work.)
Sprinkle the vinegar mixture over the rice and fold the rice by shamoji (rice spatula) or a flat
spatula quickly. Be careful not to smash the rice.
To cool and remove the moisture of the rice well, you can use a fan as you mix sushi rice. This
will give sushi rice a shiny look. But it's not necessary!

Ingredients: Cucumber Dip
1 English cucumber, peeled, seeds removed and diced
3 tablespoons of fat-free, plain Greek yogurt Juice of ½ lemon
1 tablespoon chopped fresh mint
Method: Dip
Combine all ingredients in a bowl and mix thoroughly. Refrigerate until ready to serve.

Ingredients: Sushi
1/2 pound smoked salmon belly, diced small
1/2 cup cream cheese
2 teaspoons capers, chopped
1 sheet Nori paper, chopped fine

Assembly of Rice Pops
Combine rice, capers, nori, salmon and cream cheese together in a bowl and mix until ingredients are well incorporated.
Take about 1 tablespoon of the mixture, shape into a ball, and skewer with a bamboo stick (www.PickonUs.com has some great ones to choose from). Repeat until all the mixture is used.
Serve with cucumber dip.
And for the fan in all of us: Apple and Cherry Granola Bars
Yield: 12
Ingredients
2 1/2 cups old fashioned rolled oats
1/2 cup whole almonds, coarsely chopped
1/3 cup honey
1/4 cup unsalted butter, cut into pieces
1/4 cup packed light brown sugar
1/2 tsp vanilla extract
1/4 tsp kosher salt
1/2 cup dried cherries, coarsely chopped
1/4 cup dried Apples, chopped

Method
Prepare Oven and Pan
Heat oven to 350 degrees F (177 degrees C). Line bottom and sides of a 8-inch or 9-inch square pan with aluminum foil. Then lightly oil or spray with cooking spray.
Toast Oats and Nuts
Add oats and almonds to a small baking sheet then bake 5 minutes, stir and bake another 3 to 5 minutes until lightly toasted. Transfer to a large bowl.

Prepare Granola Bars
Combine butter, honey, brown sugar, vanilla extract and the salt in a small saucepan over medium heat. Cook, stirring occasionally until butter melts and the sugar completely dissolves.

Pour butter mixture in to bowl with toasted oats and almonds. Mix well. Let cool about 5 minutes then add cherries and apples. Stir to combine.
Transfer oat mixture to lined pan then use a rubber spatula or damp finger tips to firmly press the mixture into the pan.
Cover then refrigerate at least 2 hours.
Remove block of granola mixture from pan then peel away aluminum foil. Cut into 12 bars.
Store bars in an airtight container for up to one week. For the softest bars, keep at room temperature. For slightly harder bars, store in the fridge.