Charlie Sheen's ex Bree Olsen warns others not to go into adult film industry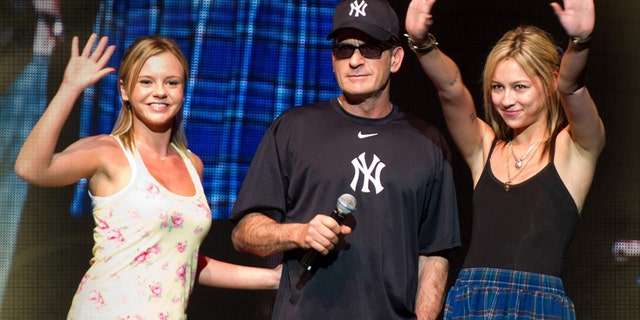 Former porn star Bree Olson has spoken out for the first time about what it's like to carve out a career once you leave the adult industry — and it's a damning indictment of life post-porn.
The 29-year-old quit porn in 2011, and has since been trying to transition to mainstream acting. For many, she's best known as one of Charlie Sheen's infamous "goddesses" — one of several girlfriends Sheen lived with during his infamous 2011 breakdown.
Olson says that, five years after giving up porn for good, she still feels the negative effects every day.
"When I go out, I feel as if I'm wearing 'slut' across my forehead. All the mean things people say to me on the Internet — that's how I feel when I walk out the door," Olson says in a video interview for the "Real Women, Real Stories" project.
"I've gotten to a point where there are days to weeks at a time that I don't leave my house, because I don't feel like facing the world. I get so disappointed when I meet a new friend, and it turns out they don't want to be my friend anymore. It's easier for me to stay inside my house."
Olson says that, during her porn career, she was making up to $60,000 per month.
"I could go back to porn today and make that — I could make $20,000 in one week if I wanted to. I don't, because that's how much I don't want my photos on the Internet," she says.
"People treat me as if I'm a pedophile. They don't treat me like I'm an ex-sex worker, they treat me like I would be damaging to children."
Asked how she'd like to be treated, she breaks down.
"I wish that people would treat me like they'd treat a married registered nurse with 2.5 kids in Indiana. That's how I wish people would treat me. But it'll never happen — that's probably why I don't think about it."
In an opinion piece accompanying the video, Olson — real name Rachel Oberlin — writes that she receives no money from her porn career now, despite the fact her pornographic images and videos are still viewed countless times online.
"There are no royalties in porn. I see ads to this day, and my movies are everywhere on the Internet. These faceless people behind the industry still make millions and face no repercussions, and I am left to try and come up with ideas of how to have my own business because there's not much else I can do. We are the only entertainment industry that doesn't offer talent royalties after they are gone. So now I am shunned by society and broke.
"I've had people recognize me off just my voice alone. Porn is the one industry where the more successful a woman is, the more she will suffer for the rest of her life.
"My biggest regret was leaving the industry. Leaving all of that money and trying to get the world to like me. They still don't, and they never will. I should have just put in another five years at least so that in my smart financial years as I was older, I could have saved enough to live comfortably for the rest of my life."
Olson said she was sharing her story as a warning to other women contemplating a porn career.
"I send a very strong message to young girls: Don't do porn. As much as you want to embrace your sexuality and say, 'I can do whatever I want with my body,' you're going to have a life of crap in front of you. You can never work with children after you do porn, you can never work in the medical field after you do porn. These are things that teenage girls don't think about. How people treat you for the rest of your life — it's not worth it."
This article originally appeared on News.com.au.