Charlie Sheen tells Playboy 'Adonis blood' comment went over the line; regrets calling John Cryer 'troll'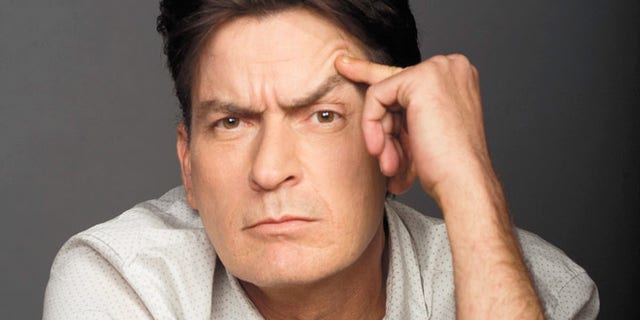 Charlie Sheen tells the July/August issue of Playboy he "started to unravel," last year, calling his public meltdown a "psychotic break."
Sounds about right.
Here are some highlights from his Playboy interview promoting his new FX show "Anger Management," available on newsstands and online June 29.
On insisting he was "winning": "I was in total denial. It wasn't that bleak in my head. I felt I was winning by finally being able to speak my mind. I felt that was some sort of victory. And then it was fueled by the insane public outpouring of support."
On the many other phrases he coined: "Most of it came out of nowhere. It wasn't planned, it was just random. The tiger blood? I don't know. It's just a very dangerous animal. And there's a tiger in 'Apocalypse Now,' by the way, so maybe there's a connection there. Adonis DNA? I don't know what the f**k that was about. That was just stupid. That went a little far."
[pullquote]
On Sean Penn's theory that he is just a "performance artist": "That's cool that he said that. It's a compliment, but it's not what was going on. I didn't have a master plan. I didn't realize it was going to create such a global firestorm. At the time, it felt like I was watching a lot of it from above. I was a little shocked by how huge the whole thing became."
On the real cause of getting fired from "Two and a Half Men": "Everybody thought I had OD'd or whatever. No, I had a f**king hernia blow out of my stomach. I called the paramedics, because that's what you do, right? It was because of a Dave Chappelle sketch. Remember the scene where he's a blind white supremacist who doesn't know he's black? It's f**king hilarious. I'd never seen it, and I laughed myself into a hernia. That is 100 percent true. It's his fault. There you go. Dave Chappelle cost me my job."
On regretting calling Jon Cryer a "troll" and a "traitor": "That was wrong. I whaled on him unnecessarily. He was trying to keep the s**t together, trying to cover my ass, pick up the slack. He just got caught in the crossfire. He's a beautiful man and a f**king fabulous dude and I miss him. I need to repair that relationship, and I will. I will reach out and do whatever is necessary."
On rehab: "Here's how I think of it. Someone's in rehab, right? And he's like, 'Hey, man, I've got 45 days and then I'm clean.' Of course it seems that easy. You're in a place with no drugs and you can't leave. Way to go, man. Try it in the real world."
On a particularly memorable moment while his dad was shooting "Apocalypse Now" in the Philippines: "I remember one night we were in the bungalows where we lived at the time, and just as we were getting ready to go to bed, a naked Robert Duvall comes racing through the room, screaming at the top of his lungs like an Indian. Then he leaves, and he doesn't poke his head back in to explain. He doesn't say, 'I'm out here with Dennis Hopper and he put me up to this.' Nothing. To this day I don't know what the hell that was about."
On what inspired him to get into acting: "A lot of people will say, 'Oh, I got into acting because I wanted to explore my craft.' They're a bunch of liars, unless they're Sean Penn, DeNiro or my dad. For the rest of us it was all about chicks and money. Seriously. It was about how I could get money so I could impress the girls and feel like I mattered."
On retiring after "Anger Management" to become a full-time dad: "I can't tell you how many calls I've gotten at work: 'He or she took their first step' or 'He or she ate solid food' or 'He or she rode a bike for the first time.' I'm the breadwinner and I have to do this so my kids can have a life, but I feel I'm missing too much."
On disciplining his kids and being an overprotective dad: "I have a deal with them. They have one, maybe two chances to call me anytime, no questions asked, and I will come and get them. But if there are signs of any physical damage on their bodies, then there's going to be gunplay involved. It's a whole different story for whatever house they're leaving. That s**t gets burned to the ground. Period, the end. When it comes to my kids, I don't play around."