Charlie Sheen Makes Nice With Ashton Kutcher, Jon Cryer at Emmys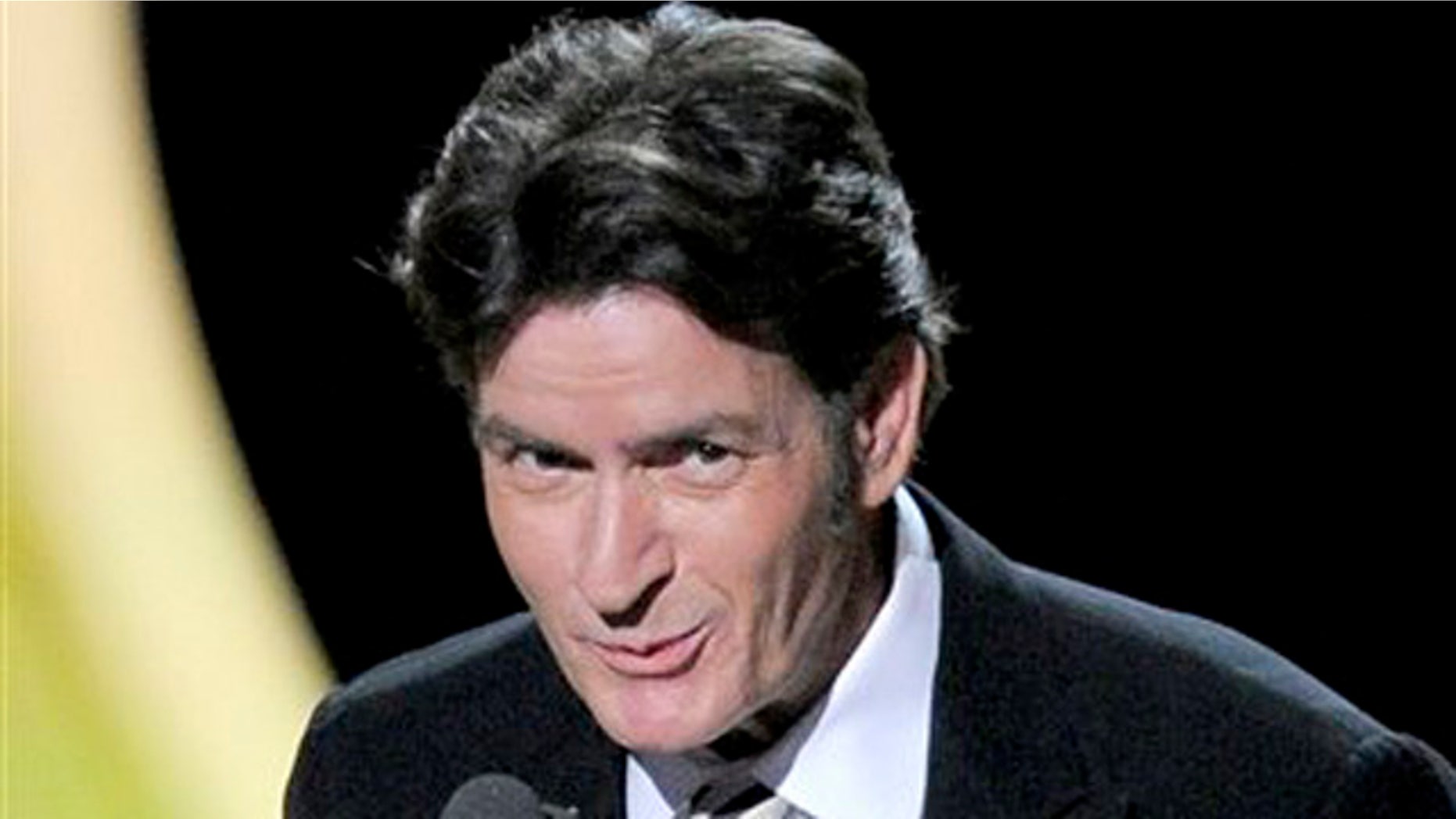 Earlier this year, Charlie Sheen cussed out his cast mates and bosses on "Two-and-a-Half Men," calling executive producer Chuck Lorre everything from a "maggot" to a "nut-less sociopath," and his co-star Jon Cryer "a turncoat, traitor, and a troll."
How times have changed.
"From the bottom of my heart, I wish you nothing but the best for this upcoming season," Sheen said during the 63rd Emmys telecast on Sunday night, after proclaiming that he wanted "to take a moment to get something off my chest and say a few words to everyone here from 'Two and a Half Men.' "We spent eight wonderful years together and I know you will continue to make great television." 
VOTE: Who Was Emmy's Best Dressed?
Sheen presented the trophy for best lead actor in a comedy series, which he sadly referred to as his "old category."
But this isn't the first time in recent days that the troubled Tinseltowner has made a public effort to show off a new much more sober self.
Last weekend Sheen also put on a surprisingly sober appearance while walking the red carpet at his own Comedy Central Roast - and expressed his excitement that the show will air on this Monday, the same night as the highly-anticipated season premiere of "Two-And-a-Half Men" with replacement, Ashton Kutcher.
"I think it's great," Sheen enthused to us. "Everyone wins."
On that note, the fired actor even went to extra lengths during the Emmys telecast to ensure his fans that there was no bad blood between he and Kutcher.
"Giving the new kid a little advice..! With @aplusk backstage at the Emmy's..." Sheen tweeted, along with a picture of the two supposedly bonding.
However, that didn't make Sheen's earlier 2011 antics exempt from becoming fodder for awards show jokes. As Kutcher and Cryer presented an award together, the show's new star remarked that he didn't think his new co-star was "a troll." Awww.
But perhaps Sheen's sudden friendliness has Cryer feeling a little nostalgic for old times. Even though Sheen's character has been killed off, Cryer remarked to Ryan Seacrest on the Emmy's red carpet that there could still be a possibility for a return.
"I loved working with him. We worked together before the show, we did 'Hot Shots' together, and I was thinking that if he wants to come back on the show, he could appear like a Jedi Knight, where they glow blue... he could say use a condom, Jon," Cryer mused.
According to crisis management expert Glenn Selig, Sheen is making all the right moves in the pursuit of worming his way back into Hollywood's good books.
"Charlie Sheen's apology on Sunday is just the latest in a string of appearances designed to sound contrite. Recognizing a mistake and owning up to it goes a long way and is a smart move," Selig told FOX411's Pop Tarts column. "At the end of the day, Charlie Sheen hurt himself in the process. Do I think the public will give him another chance? I certainly do. The public loves him as a bad boy and he is planning a comeback to TV to play a bad boy. His words I think are as much directed toward the public as they are to networks whom he hopes to work with on his new show. Hollywood, I believe, will be forgiving as well."
But not everyone is totally convinced that Sheen's solemn apology was totally genuine.
"Making nice is teetering on the edge, and the love is just not quite there yet," added pop culture and entertainment expert, Gayl Murphy. "As for his appearance on the Emmy's, I think the audience was holding their breath as he spoke, thinking it was some kind of Tiger Blood a joke about winning. Even when he said he was talking from the bottom of his heart, I think they were wondering exactly where that might be located: wallet or chest."
Deidre Behar contributed to this report.