Cesar Millan gets candid on helping wounded veterans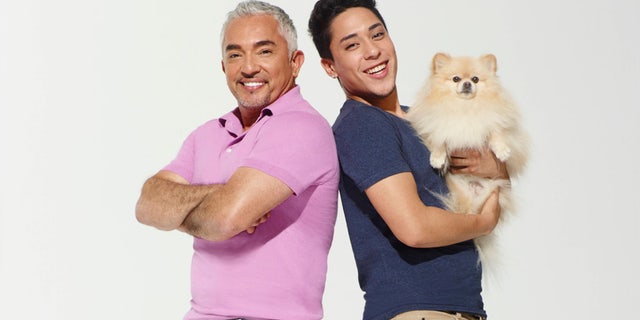 NEWYou can now listen to Fox News articles!
The dog whisperer is back.
Emmy-nominated celebrity dog behaviorist Cesar Millan has been on a road trip across America with his son Andre to help organizations and people rescuing canines in need for his new TV series, "Dog Nation."
"The United States is very proactive in rescuing and adopting dogs," the 47-year-old told Fox News while on a recent trip to New York City. "But I think we have to do a little bit more campaigns towards spay/neuter because we are having an overpopulation problem. So even if you keep rescuing you will never stop the euthanization because the overpopulation continues."
Andre, who's been following in his father's footsteps since he was a child, pointed out that Missouri has been faced with the crisis the most.
CESAR MILLAN: HELP ME STOP PUPPY MILLS
"Missouri is the home of puppy mills," explained the 22-year-old. "These are dogs that are bounded and stacked in cages for years and are bred to breed. I got to see the reality of why we're spreading the awareness of what's happening in our own backyard."
According to The Humane Society, Missouri was listed in their fourth annual Horrible Hundred report, which describes the conditions documented by state or USDA inspectors at dog breeding operations. Several mills, including many repeat offers, are noted for having puppies "matted with feces," "entrapped in wire flooring," and others sick or dying while living in darkness.
It's cases like these that prompted Cesar and his son to tag team and assist animal rescue teams to save pups. However, the duo aren't just helping animals.
"In Washington D.C., we worked with a company named Fidelco that focuses on helping wounded veterans that have been blinded from the war and don't have the funds to get a guide dog," said Andre. "I worked with a guy named Richard Donald Overton. He was wounded in Desert Storm. He didn't want to be dependent on his child. He really didn't have a lot of freedom."
CESAR MILLAN GETS ENGAGED TO GIRLFRIEND OF SIX YEARS
"It's sad because these people fight for the independency of America," explained Cesar. "The freedom of America. But when they come back wounded, they become dependent. So Fidelco is really helping them to recover that freedom they fought for. But you will find in the show that it's not actually in agreement with congressmen for wounded warriors to actually get a dog. It's easier for them to get a stick or be put on medication to help deal with their depression."
"And they go back to doing their activities by themselves," he added. "They recover that side of themselves again. You want to be able to do things on your own again. These people fight for the freedom of Americans. They deserve it. They get trained to go to war, obviously an investment from the United States to make a soldier. But when it comes to retraining the soldier to come back to society, there's no funds for it."
However, not all tasks given to dogs by man has resulted in positive results. In late January, a viral video showed a dog on the set of "A Dog's Purpose being forced into a moving body of water during production of the movie. The clip raised questions about the treatment of the animals on the film's set, and some suggested it could shift the way animals fit into feature films.
Cesar, who claimed he hasn't seen the footage, was surprised to hear about the reported mistreatment.
"I haven't seen the film or the incident, but one thing I can tell you about a dog is that they love to work," he said. "A dog is actually happy when they have something to do…[But] you just have to take into consideration that just like an actor, it's going to give you everything he has, but then he's going to tell you, 'Listen, I'm tired. Give me a break.' And a dog is going to be very honest with you. If he can't work or it's not his day, he's going to let you know. This is where the handlers, trainers, or whoever is in charge needs to recognize those cues. That way, you don't stop a dog from exercising, but you don't overdo it."
"I always tell people you need to find a job for your dog," he also stated. "Most dogs spend 12-14 hours doing nothing. That's more like incarceration. A dog wasn't born to be behind walls 24/7…I rather teach people the importance of exercise and mental stimulation, which becomes work. That's what makes a dog."
"Dog Nation" premieres Friday, March 3rd at 9 p.m. EST on NAT GEO WILD.