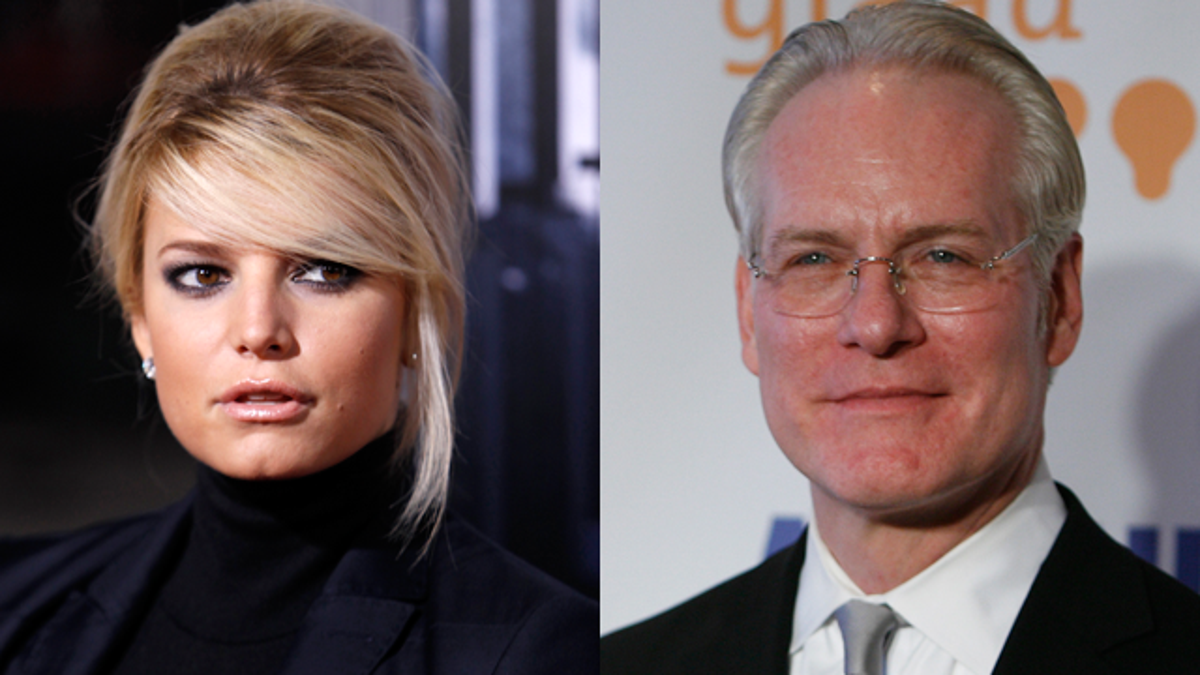 Celebrities including Tim Gunn, Jessica Simpson and Ellen DeGeneres are speaking out to raise awareness of cyber bullying and bullying of gay teens.
Their efforts come in the wake of the tragic suicide of Rutgers college freshman Tyler Clementi, who jumped to his death after fellow students allegedly streamed online a romantic encounter between him and another man, along with reports that four other American teens took their own lives last month due to being made fun of for being gay.
"It gets better. People are here for you, people who care and understand. This may be the darkest time in the world for you, but you need to understand that there is hope," stars Anne Hathaway, Jenny McCarthy, Kristen Cavallari, Julie Benz and Greg Grunberg say in the new PSA "It Gets Better."
The spot encourages teens to call The Trevor Project, a national 24-hour, toll free confidential suicide hotline for gay and questioning youth. "If you or a friend are feeling lost or lonely, there is someone who can help. If you're being bullied in school you're not alone, don't give up," it says.
The PSA was compiled in a matter of days by Hollywood publicist Jack Ketsoyan after Clementi's suicide last week. "I just kept hearing of these teens committing suicide because they were bullied for being gay, and my own nephew in New Jersey recently killed himself because he was taunted so heavily because he took a boy to the school dance. I wanted to use my connections here to reach out and help others," Ketsoyan told Pop Tarts. "The support from the Hollywood community has just been amazing."
"Project Runway" style guru Tim Gunn posted an emotional web video supporting The Trevor Project, in which he reveals his own suicide attempt. Neil Patrick-Harris urged gay teens to "stand tall and be proud of who you are" in an MTV PSA, and Ellen DeGeneres filmed a message on the set of her daytime talk show, pleading for change.
"This needs to be a wake up call to everyone… One life lost in this senseless way is tragic, four lives lost is a crisis. My heart is breaking for their families, for their friends and for our society that continues to let this happen," DeGeneres said. "These kids needed us, and we have an obligation to change this. We can't let intolerance and ignorance take another kid's life."
"Hairspray" star Brittany Snow worked with the Jed Foundation and MTV to launch the #loveislouder movement after news broke of Clementi's death. "People needed a positive outlet to funnel their anger and sadness after the recent losses, and we have to let other young people know that the love and support for them is so much louder than any voice that brings them down or causes them pain," she told Pop Tarts. "If you look at all the people who have already uploaded videos and tweeted the message out you can see that love really is louder."
Over 200 videos of people showing support have been uploaded on the YouTube Channel (also titled "It Gets Better").
And other celebrities want teens to know that in spite of all the fame and fortune they have now, they too suffered from the taunts of bullies.
"People say sticks and stones may break your bones, but names can never hurt you, but that's not true," Disney starlet Demi Lovato wrote on PACER's Teens Against Bulling website this week. "Words can hurt. They hurt me. Things were said to me that I still haven't forgotten."
Eva Mendes told People Magazine that she turned her life around when she "finally stood up to a bully," Jessica Alba told the U.K's Daily Mirror that she was "bullied so badly" that her father had to walk her into school to avoid getting attacked, Jessica Simpson once said that people "would throw toilet paper and eggs" at her door, and Audrina Patridge told us that she was the target of high school bullies who constantly put her down.
Over recent days, a slew of other stars including Colin Farrell, Jewel, Stephen Baldwin, Sarah Silverman and Jason Derulo have also posted videos and/or used media opportunities to bring more awareness to the hot button topic. FOX's hit show "Glee" now plans to spotlight the issue further by focusing an entire episode on gay teens and their struggles, an several of its stars are pushing for stronger education implementation in schools.
"Bullying comes from people's own insecurities and ignorance, so going to schools and giving them knowledge is a crucial step and its sad that it took all this tragedy for it to have all this attention all of a sudden," Kevin McHale told Pop Tarts. "But at least some good positives can come out of it where we are talking about it and hopefully it will stop because it is ridiculous."
Cory Monteith said it was important for "Glee" to acknowledge these serious social issues, and the value of educating people in school about prevention. Co-star Matthew Morrison is proud that the show grapples with confronting often controversial topics.
"In the 50's none of this ever happened because everyone was so conservative, but we're in a different age now. I love that 'Glee' talks about it and talks about sex because teenagers have sex and it is all out in the open now, no one is hiding it anymore and it's good to get that conversation going," he said. "It's a whole new world and we need to pull the reigns in and prevent a lot of the stuff that's happening."
Ketsoyan believes the issue of bullying has touched hearts so deeply because it is something everybody, famous or not, can relate to.
"At some point everyone has been bullied, everyone knows that pain," he said. "And with gay bullying it is a lot more out there now. In my time, kids couldn't come out in school – it was far too taboo. It's the 21st century so teens feel like it must be okay to come out now, but sadly there are still some people in society that don't understand and make it not okay. We need to change that."