Catherine Oxenberg feels 'horrendous guilt' after bringing daughter into alleged sex cult
Catherine Oxenburg has been fighting tirelessly to save her daughter India after introducing her to the alleged sex cult NXIVM.
The former "Dynasty" actress told Megyn Kelly she feels "horrendous guilt" after bringing her daughter to a NXIVM class in 2011.
"I brought her in. And that's why I feel responsible for getting her out," Oxenberg told Kelly in a preview of her upcoming "Dateline" interview airing Monday night. "At first I felt horrendous guilt that I had participated in bringing my daughter into an organization that was this deviant and dangerous."
'SMALLVILLE'S' ALLISON MACK WENT FROM HUNGRY ACTRESS TO BRUTAL SEX SLAVE LEADER WITH NXIVM, REPORT SAYS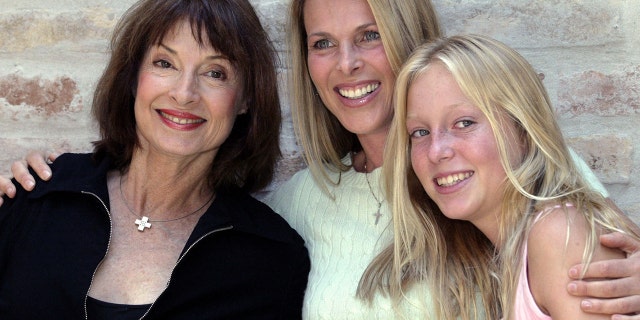 Oxenberg and India attended a NXIVM class in 2011 that was supposedly about helping to gain self-esteem. While the veteran actress found the class to be "weird and creepy," her daughter enjoyed the program. Oxenberg said her daughter became immersed in the organization quickly and donated the majority of her inheritance to it.
Oxenberg also recalled seeing her daughter's branded flesh after India had NXIVM leader Keith Raniere and his cohort Allison Mack's initials burned into her skin.
"I was horrified," she said adding that India believed the tattoo was a Latin symbol. "I said, 'Are you aware of what you're branded with?' And she said, 'Some Latin symbol'...She said it was character building.
"So it's very possible she was told it was a Latin symbol because a lot of the girls were not told it was Keith's – and possibly Allison's – initials," she added.
SEAGRAM'S HEIRESS NABBED IN NXIVM SEX CULT ARRESTS; 'SMALLVILLE' STAR ALLISON MACK FACES MORE CHARGES
Oxenberg said some of her guilt was relieved after she started to learn more about cults.
"Then I started to educate myself... I spoke to numerous experts and they said, 'Would you stop blaming yourself? These cults are well-oiled machines. India never stood a chance.'"
As previously reported, Mack allegedly worked alongside Raniere to recruit women as sex slaves under the guise of a women's self-help organization. The recruits were allegedly branded with the organization's symbol and extorted with sensitive content including nude photos that they were asked to surrender to the organization as a kind of commitment.
Both Mack and Raniere were arrested for their involvement with NXIVM.