Casual Christmas morning meal ideas from James Briscione and Brooke Parkhurst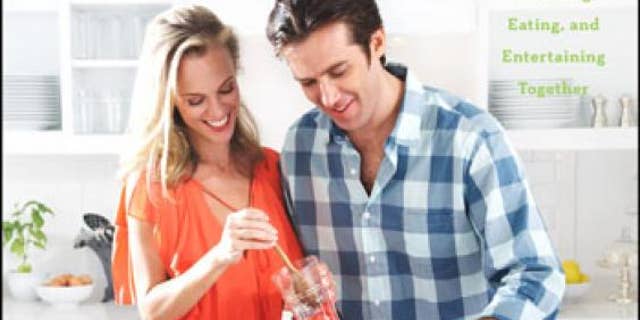 Quick and causal meal ideas from husband and wife entertaining team James Briscione and Brooke Parkhurst -- the brains behind 'Just Married & Cooking.'
Christmas Morning Frittata
4 servings
Ingredients
1 tablespoon Canola oil
¼ cup diced Smithfield honey-glazed ham
6 scallions, thinly sliced
1/2 cup red and green pepper, diced
½ cup Idaho potatoes, cooked and diced
6 whole eggs
½ cup grated cheese, optional
Salt to taste Pepper to taste
Method
Preheat oven to 350 degrees.
Heat the canola oil in an 8" non-stick sauté pan. Add the ham, onions and peppers and sauté for about 2 minutes. Add the potatoes and continue cooking until lightly browned.
In a separate bowl, beat the eggs with salt, pepper and cheese, if using. Pour the mixture into the sauté pan and scramble for 15 seconds. Leave the pan over the heat until the edges are firm.
Transfer the pan to the oven and cook at 350ËšF, until set in the center.
Invert onto a plate to serve. Serve warm or at room temperature
"White Gold" Cocktail
Ingredients
1.5 oz Johnnie Walker Gold Label Reserve
1 oz fresh grapefruit juice
.5 oz thyme honey-syrup (recipe follows)
Splash soda water (optional)
Method
Combine Johnnie Walker, grapefruit juice and thyme honey syrup in a cocktail shaker with ice. Shake to chill thoroughly. Pour into a highball glass and finish with a splash of soda if desired.
Thyme-Honey Syrup
Ingredients
1/2 cup honey
4-6 branches fresh thyme
1 cup water
Method
Place the honey and thyme in a small sauce pot over medium heat. When the honey begins to bubble. Remove from the heat and set aside 5 minutes. Stir in the water, and bring the mixture back to a boil. Strain and cool. Keeps refrigerated up to 2 weeks, refrigerated.