Carrie Underwood opens up about her new song 'Love Wins': 'We can learn from each other'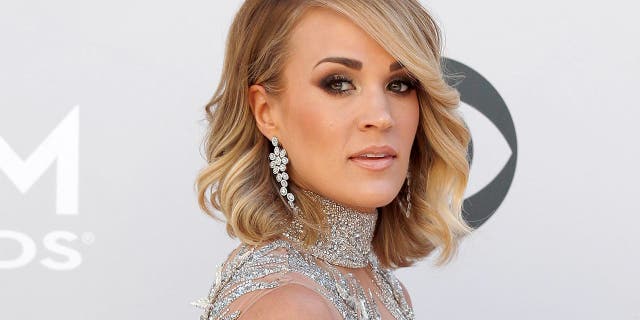 Carrie Underwood is opening up about the meaning behind her latest song, "Love Wins."
In a new interview with Taste of Country the 35-year-old star explained she wanted to write a tune that highlights the positives in our differences.
"I do think that we as humans are inherently good and we need to remember that. Because we're different, that doesn't make somebody else bad, it just makes us different," Underwood told the outlet of the song, which is out on September 14.
"We wanted that song to be hopeful and to maybe make somebody stop and think about that."
Ultimately, the star's hope is that "Love Wins" will inspire people to be understanding of one another.
"We weren't trying to speak negatively about our world, because we live in an amazing world, but I feel like we get really caught up in surface things and I feel like in this world, we're quick to get angry at each other," she explained.
"I personally think that we're all different for a reason," Underwood continued. "I feel like if you just sit down and talk to somebody who's not like you and keep it calm, we can all learn from each other."
In her own life, the soon-to-be mama of two hopes that her kids will live their lives with empathy.
"I want Isaiah to be around people that don't think like he does," Underwood, who is expecting her second child, explained of her son Isaiah, 3.
She continued: "I want him to form his own opinions about things and I want him to talk to people and come to people with love... I feel like that's an important trait we all need more of, but definitely something that we need to teach our children to love each other and love others."
"Above all, we want people to feel hopeful," Underwood added of "Love Wins." "I want to make sure people see this for what it is and what we're trying to say."
Earlier this month, Underwood revealed that she and husband, Mike Fisher, are expecting another bundle of joy.
"Mike and Isaiah and I are absolutely over the moon and excited to be adding another little fish to our pond!" the country superstar shared on Instagram.
"This has just been a dream come true, with album and with baby news and all that stuff. We're just so excited, and just so glad that you guys can share in this with us."
The baby news comes at the same time that Underwood announced she will be embarking on the "Cry Pretty Tour 360" in May 2019.
Fox News' Sasha Savitsky contributed to this report.