Bumping and grinding on 'DWTS' leads to off-screen hookups between dancers, stars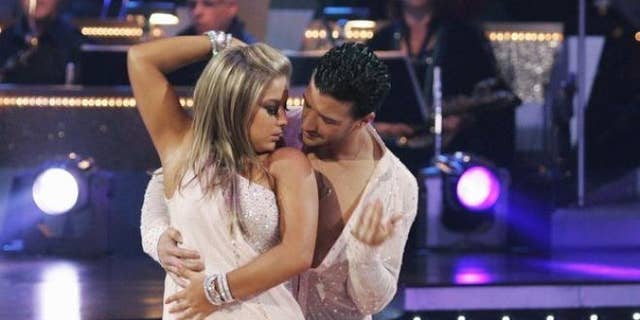 NEWYou can now listen to Fox News articles!
Who needs "The Bachelor"?
"Dancing With the Stars" is prime-time's most compelling dating show.
All the bumping, grinding and half-naked bodies have both pros and celebrities hopping in the sack like teenagers on prom night.
"When you have two single people in a room and you are spending so much time together, it's natural to have chemistry and to be curious," longtime pro Cheryl Burke tells The Post.
"All of a sudden you think you are in love because you are grinding on each other seven days a week."
Backstage love connections happen "a lot more than people know," pro Maksim Chmerkovskiy confirms.
And they rarely end well.
One celebrity nearly left his wife for a pro who has bedded as many as four other participants, an on-set source reveals.
"They all fool around with each other," the insider says. "The problem is that many of these people are married. It is disgusting!"
While much of their time at work is spent in front of producers and cameras, the dancing partners often retreat to L.A nightclubs for late-night rendezvous.
Last month, Pamela Anderson fueled speculation of a budding romance when she invited partner Tristan MacManus on a Mexican vacation, during an appearance on "Jimmy Kimmel Live."
"Pam is totally into him, but Tristan is madly in love with his girlfriend [Australian model Tahyna Tozzi, 26]," our spy says.
The show has no official policy about workplace hookups, but producers are often faced with cleaning up the mess when a showmance fizzles out.
All-Star contestant Shawn Johnson had "a nasty breakup" with pro Mark Ballas after they won the mirrorball trophy in season eight, a source says. "That's why they couldn't be paired up again [for the All-Star shows]."
Both parties have denied the affair.
Go to The Post for more 'DWTS' hookups.