British TV star reportedly 'arrested' in airport for gun-style shoes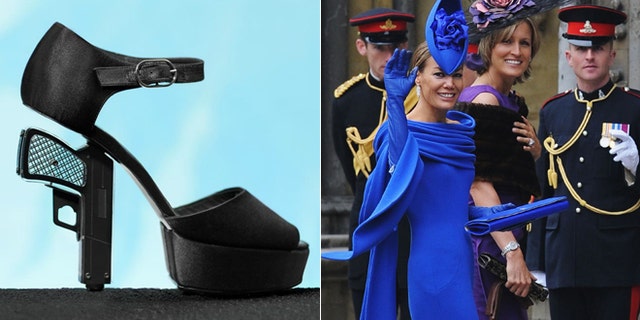 A British socialite's fashion choice had some consequences at an airport in Switzerland.

Tara Palmer-Tomkinson, who works as a TV presenter and model in the U.K., was "arrested" by airport security in Zurich for shoes in her luggage that were styled with fake guns on the heels.

The 41-year-old took to Twitter to talk about the incident: "Was arrested [at] Zurich airport with my Chanel killer heels in my luggage... not a good look on the x Ray!!"

South African news site Channel 24 reported the star was detained on her way back to London.

However it seems she wasn't too upset by the delay.

"I actually played backgammon with the cops [for] 7hrs!" she tweeted.
Multiple news sites reported the incident occurred this weekend, however her rep denied the star was recently detained, telling FOX 411: "She was telling someone an old story [from 2009]."

Palmer-Tomkinson made no mention of the "arrest" being an old story, though she has tweeted many times since her inital post about the shoes.

The shoes, featured on the Chanel website, are described as a "platform sandal on a 90mm gun heel." They are the work of famed fashion designer Karl Lagerfield are worth an estimated $1,500.