'Breaking Dawn' Dilemma: Film's promotion could suffer post-Kristen Stewart cheating scandal, experts say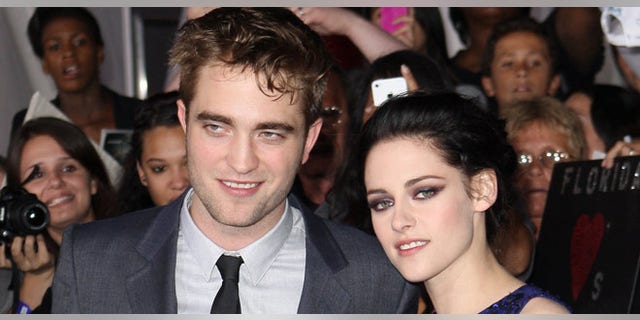 LOS ANGELES – Kristen Stewart's affair scandal happened at a very bad time for the "Twilight" movie franchise. The series' final installment, "Breaking Dawn: Part 2" is set for release in just three months, and its massive promotional push is being hammered out as we speak.
Experts we spoke to said Stewart's affair with the married director of her last film, and its subsequent ramifications on her long-term relationship with "Twilight" co-star Robert Pattinson, could cause big problems in the run-up to the "Twilight" finale.
"I would expect the press schedule to be altered significantly as a result of the recent developments. From the very beginning, neither Stewart nor Pattinson ever seemed especially comfortable doing press but have gradually appeared to find their comfort zones. Yet the scandal is almost certainly going to have them shying away from the direct glare of the media," entertainment reporter Scott Huver told FOX411's Pop Tarts column. "I would be bet that they'll do few to possibly no formalized interviews for the final film, except the most elite outlets and under tightly controlled circumstances. Other than that, expect carefully timed photo ops on the various red carpet premieres, and probably not together, unless some kind of peace can be brokered."
According to a public relations insider, a final decision on promotional changes has likely not been made ... yet.
"The film's release is still months away, and they are two young kids. Who knows what will happen, they could stay together or even move on and find someone else," said the source. "It won't be as hot a story by then."
Any potential changes to pre-planned press tours may not be dramatically different from how they have been handled to date, regardless of Stewart and Pattinson's feelings toward one another. In past years, the pair were generally placed in separate interview rooms while doing promotional interviews. And when it came to the international circuit for "Breaking Dawn – Part 1," which was released late last year, the couple was again most often assigned appearances in different countries. While Pattinson went to France and Belgium with co-star Ashley Greene, Jackson Rathbone and Nikki Reed went to fan events in Spain and Italy. Later Pattinson joined Taylor Lautner and last minute addition Stewart for the "Breaking Dawn" premiere in London, and as Reed, Greene and Peter Facinelli continued promotions in the U.S., Pattinson and Lautner continued on to Spain and Germany.
Fellow "Twilight" actress Christian Serratos also came out this week and told Us Weekly that she doubts the affair saga will affect the film, and that people are ultimately "fans of the characters."
Yet even though chances are Stewart and Pattinson will be kept apart for their duties, irrespective of the status of their relationship at that point, it is likely questions will be heavily controlled and restrictions pertaining to what reporters can and cannot ask will be imposed.
"I feel fairly assured that any interviews granted will be on the condition that questions center solely on the film itself," Huver explained. "It will probably be best to keep them apart as much as possible, deftly choreograph the timing of their comings and goings, minimize the direct press interaction and maximize their individual face time in front of the fans. They are fortunate that the 'Twilight' franchise is such a colossal juggernaut that the film can largely sell itself, and there are plenty of other co-stars to pick up the slack and will be coached on how to deal with the 'Robsten' questions, of course."
Glenn Selig of The Publicity Agency concurred that the entertainment press will probably accept restrictions on questions, while other press may not, and that two will simply need to "suck it up" and remain professional. After all, they each get paid millions and millions to do just that.
"They should do what they need to do, and nothing should be altered," he said.
Ronn Torossian, CEO of 5WPR and author of the PR book "For Immediate Release," noted that while the salacious affair will likely have an adverse effect on Stewart's career, the impassioned "Twilight" fan base will ensure that box office attendance still thrives come November.
"They undoubtedly have contract provisions which will require them to promote the movie and do interviews," he added. "I am sure they will do so without any public confrontations. And Stewart has already started addressing the rumors, so in three months, it won't be as intense a public issue."
Representatives for the film declined to comment, and reps for Stewart and Pattinson did not respond to a request for comment.