Brandi Glanville shares photo with LeAnn Rimes after years of feuding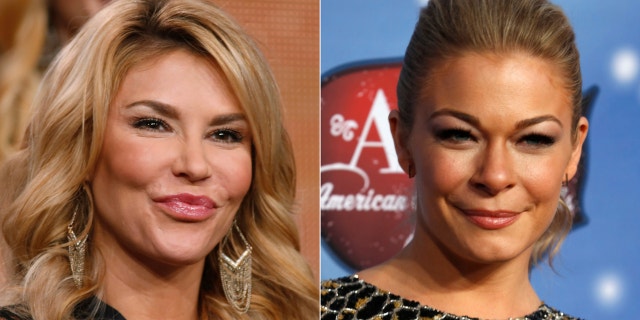 Is the feud over between Brandi Glanville and LeAnn Rimes?
The "Real Housewives of Beverly Hills" star appeared to move past the bad blood with Rimes over the weekend and posted a photo with the singer. They were together to celebrate the 11th birthday of Glanville's son Jake, who she shares with Rimes' now-husband Eddie Cibrian.
"Peace in #calabasturd hanging for Jakes bday," Glanville captioned the photo on Instagram Saturday.
The 35-year-old country singer posted a throwback photo of Jake to celebrate the boy's birthday but did not repost the selfie with Glanville.
The women haven't been on great terms since Cibrian cheated on Glanville with Rimes in 2009. Rimes was married to Dean Sheremet at the time.
Rimes and Cibrian left their spouses and got married in 2011.
The "Real Housewives" star told E! News' "Daily Pop" last June that she believes Cibrian will leave Rimes in the near future. Glanville also admitted her relationship with her ex-husband was "a little rocky" at the time.
Glanville also admitted she was immature following the cheating scandal.
"I think that I've acted like a child enough during the seven years," she told People in 2016. "As the kids are getting older – something did happen with one of them, and I don't really want to go into it, but it made the three of us, Eddie, LeAnn and myself, realize we have to be together on this."