'Black-ish' star Peter Mackenzie on his role as an oblivious racist, show's ability to spark conversation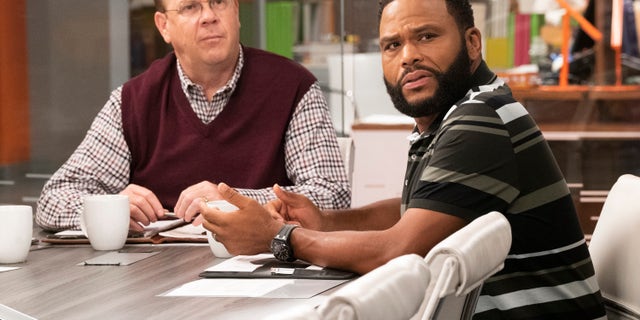 LOS ANGELES – Peter Mackenzie is opening up about his recurring role on the hit ABC series "black-ish."
The 57-year-old plays Leslie Stevens, owner of Stevens & Lido, who is often seen flanked by Anthony Anderson's character, Andre Johnson, and provides curious commentary on a litany of social identity issues on the show.
"It's interesting to me that that character is somebody who has no idea that he's racist," Mackenzie told Fox News at the 19th Annual Emmys Golf Classic benefiting the Television Academy Foundation Monday in Los Angeles, Calif.
"He has no idea, really. He's not some mustache-twirling racist guy, he's just some dude that's like, 'What do you mean I'm racist? I hired a black dude.' He's one of those guys, but at the same time, he says everyone should have a black friend because one day everyone is going to need their own food source. Like, how do you say s--- like that and go, 'Well those are just the facts?'"
Since 2014, "black-ish" has been known for pushing the boundaries of how ever-changing topics like race are covered on television.
Mackenzie, who was bumped up to series regular in 2016, said he's happy with the way the series has not only matured but has also been able to create dialogue among people who like and dislike its forward approach.
"I've been doing this business for 30-something years and when we're bad, we put out a funny sitcom. When we're really good, we put out a show that really makes people ask questions and look at ourselves and make fun of ourselves and at its best, it's very Norman Lear — we're poking the bear, always poking the bear," he explained.
Mackenzie noted that the show's mastermind, Kenya Barris, created it as a means of "starting a conversation" before adding that from his vantage point, "conversations need to be had these days."
When asked about the process of developing each episode and the effort placed into the countless table reads, the "American Dad" voice actor revealed the inner workings of the show and how the cast is able to hone their delivery on specific social and political themes.
"Well, when we're down there, there is some improvising that happens on the set. And if we feel like we're just pussyfooting around an issue, we'll stop everything and Kenya will come down or whoever will come down and kind of make it more on point," he shared.
"It's just great and I've never been prouder of a show."