Billy Joel's former drummer Liberty DeVitto details messy split from 'Piano Man,' dispels rumors about rock lifestyle
Liberty DeVitto played in Billy Joel's band for 30 years and can be heard on some of Joel's best-known hits such as "Only the Good Die Young" and "Just the Way You Are," but Joel unceremoniously cut DeVitto from his band without an explanation. The iconic drummer surmised that he'd lost his decades-long gig when he wasn't invited to Joel's 2004 wedding to third-wife Katie Lee.
DeVitto shares his tale in the documentary "Hired Gun," which tells his story as well as the stories of other top-notch musicians who play with stars like Alice Cooper, Ozzy Osbourne and Pink.
"If Billy is the father of those songs, I'm at least the uncle," DeVitto says in the film.
The documentary shows how DeVitto and the rest of Joel's once tight-knit band worked together like a well-oiled engine to arrange the music Joel recorded and performed in the '80s.
For DeVitto, participating in the documentary dredged up some tough emotions.
"I still hadn't gone back to revisit it," he told Fox News. "I was kind of still very upset about what happened when [director Fran Strine] first interviewed me."
DeVitto dished that, in fact, Strine had to interview him again because a lot of the material from his first sit-down was unusable.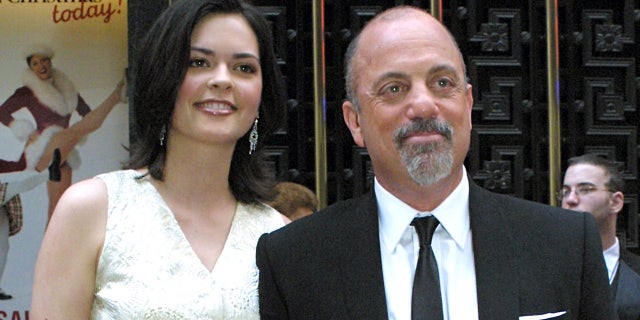 So far, DeVitto said, many who have seen the film have expressed shock upon hearing the details of the demise of his relationship with Joel.
"People didn't know that's what it was like playing with the artist that I played with. They're pretty surprised because he comes off as kind of a nice guy, and he kind of wasn't in the end."
"Hired Gun" will hit select theaters on Thursday. Joel's team declined to comment on the revealing documentary. When reached by Fox News, a rep for Joel stated simply, "We have no comment on that."
DeVitto shares in the film how he stuck with the famous "Piano Man" for decades after Joel dismissed many of his bandmates in 1989 — such as Russell Javors, who is also featured in the film. Like DeVitto, Javors describes finding out indirectly that he'd lost his job by hearing on the radio that Joel had a new album out with a new band.
Javors recalls in the documentary, "Nobody ever said a word to me after all those years… I didn't even get a phone call."
DeVitto explained the major changes to the band in '89 came when Joel fired manager Frank Weber over a financial controversy.
"It was at the end, when he kind of got screwed out of money… and then he got accountants and lawyers … and that's when it kind of started falling apart for us."
DeVitto's firing came years later, shocking the drummer at the time. He said he wrote Joel a detailed letter after he was dismissed from the band, but never heard back.
"There was some stuff that I said in it, when I found out that I was cut. I found out because I wasn't invited to the wedding. Then the whole snowball began to roll down the hill… and I realized I was out. So I wrote him a letter... and I said that we made musical history together. We went places where wives didn't go with us. So I said 'Look, Billy, if you ever want do it again, I love you.'"
DeVitto remained puzzled by his dismissal.
"I called the tour manager to find out what happened. 'Why did I get cut?' And the tour manager said he didn't know why, and he wasn't going to ask why because he feared for his gig with Billy."
DeVitto added "everybody was" afraid of the artist.
The drummer and Joel haven't spoken in years. In 2010, DeVitto sued Joel over royalties, and the two settled.
DeVitto said he did, however, hear from Joel's legal team over "Hired Gun." The drummer claimed Joel's lawyers wanted "a whole bunch of stuff" edited out of the documentary.
"I think he just was bullying everybody after he read what was in 'Hired Gun.' I told the truth of what really happened and what went on. And Russell told the truth… And we weren't in the same room."
DeVitto added, "Somebody said to me, 'You don't make Billy look like an asshole, he makes himself look like an asshole.'"
The drummer, who now plays in two bands – The Lords of 52nd Street and The Slim Kings – and volunteers with the non-profit Little Kids Rock, equated his relationship with Joel to a spouse who has been cheated on.
"A band is like a marriage. Especially after 30 years…" DeVitto mused. "I spoke the truth and speak the truth... So that's why I don't think we'll ever be able to play again or ever be able to [be] in a room again: to face that fact that 'yeah, I cheated on you.'"
He hopes "Hired Gun" helps dispel some of the seduction of the idea of being a rock star. He believes the film shows the flip side – the struggles of the often behind-the-scenes musicians who get little recognition.
"When I was growing up and I said I wanted to play drums… my dad said 'What? Do you want to be a bum for the rest of your life?' Because the idea of being a musician back in '50s, '60s was insanity… Today, [moms and dads] are all excited. 'Hired Gun' shows the other side – that it's not all roses and ice cream all the time. And you have to work really hard not just to play music but to fit in with other people and to be able to, at any moment, go with the flow.
"I just hope that 'Hired Gun' makes the saying 'act like a rock star' drop off the map. I don't know why anybody would want to 'act like a rock star.' And I hope this shows what that's like."