'Big Brother' contestant accused of inappropriate touching again after CBS warning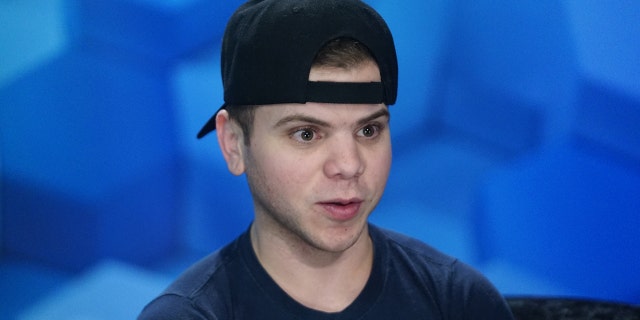 NEWYou can now listen to Fox News articles!
"Big Brother" contestant JC Mounduix is in hot water yet again after he was seen kissing another houseguest while he was sleeping.
According to Us Weekly, during the show's 24/7 online live feed Tuesday, Mounduix was seen lying in bed next to Tyler Crispen, where he was spotted rubbing Crispen's face and arm, as well as kissing Crispen's armpit.
The footage was also shared by outraged fans on Twitter.
Per the outlet, the next morning Crispen, 23, told houseguest Kaycee Clark that he was "sleeping alone tonight" because he slept like "sh-t" the night before.
"JC is not sleeping with me," he stated.
When Clark asked if it was "really that bad," Crispen simply replied: "Yeah."
Clark, who noted that Crispen doesn't like cuddling, then asked Crispen if Mounduix, 28, was "touching" him throughout the night.
"Yep," responded Crispen, adding that he also doesn't like how Mounduix has a lot of "body heat."
A statement from Allison Grodner and Rich Meehan, executive producers, said: "The expression of viewer concerns regarding JC Mounduix's behavior was reviewed immediately. All video was examined in its entirety. We spoke with all three of the houseguests separately in detail about the incidents. Tyler and Haleigh explained to producers that they in no way felt threatened, unsafe or sexually harassed. If there was any indication from our Houseguests of sexual misconduct, we and CBS would have taken immediate action. The safety and security of our houseguests is and will continue to be our top priority."
According to The New York Daily News, Mounduix said later that day that he was trying to comfort Crispen, who Mounduix claimed was having nightmares.
Following the live feed, fans took to social media to express their outrage, many of them calling for Mounduix's removal from the reality series.
"@CBS REMOVE JC FROM THE BIG BROTHER HOUSE ALREADY #bbjc #bb20," wrote one fan on Twitter.
Tweeted another user: "JC's actions aren't acceptable in the real world so why are they acceptable in the big brother house @CBSBigBrother @CBS When you don't take action you become part of the problem. The pattern of JC's behavior speaks for itself.Do better. #removejc #bblf #bb20."
"I'm sorry but personally I think JC should be kicked out of the house," another fan wrote on Twitter. "Cause if he doesn't this just shows future house guests that it's ok to touch others inappropriately while they are sleeping and how you will not get in trouble for it. It's disgusting! #bb20 @CBSBigBrother."
Another user tweeted: "@CBSBigBrother please teach JC that his actions have consequence & kick him out of the house #BB20 #bbJC #NoMeansNo."
This isn't the first time Mounduix has upset a fellow houseguest.
In July, the live cam appeared to capture him attempting to use an ice cream scooper on several housemates' genitalia, The Wrap previously reported.
According to the site, he was also allegedly seen touching a female cast member's groin. At the time, viewers called for CBS to boot Mounduix from the show.
Shortly after CBS issued a statement, which also addressed the use of offensive racial language on "Big Brother" season 20 after two houseguests, Angela Rummans, 26, and Rachel Swindler, 29, compared their tanned skin to contestant Bayleigh Dayton.
"'Big Brother' is a reality show about watching a group of people who have no privacy 24/7 — and capturing every unfiltered moment and conversation in their lives. At times, the houseguests reveal prejudices and exhibit behavior that we do not condone," CBS said in the statement.
"The producers have addressed two such incidents that were seen recently on the 24/7 online feed. In both cases, those involved have been warned about their inappropriate behavior and offensive comments, as well as future consequences. These events will not be part of any future 'Big Brother' broadcast on CBS."
Despite the network's warning, a few weeks later Mounduix said the N-word in the house.
"Midget is like saying, like, it's between gay and fa----... or like n----- and black," Mounduix said.
Mounduix, who stands 4'8' tall, was explaining dwarfism, which he does not have, to houseguest Dayton when she asked if a "dwarf" and a "midget" are the same thing.
Fox News' Tyler McCarthy contributed to this report.