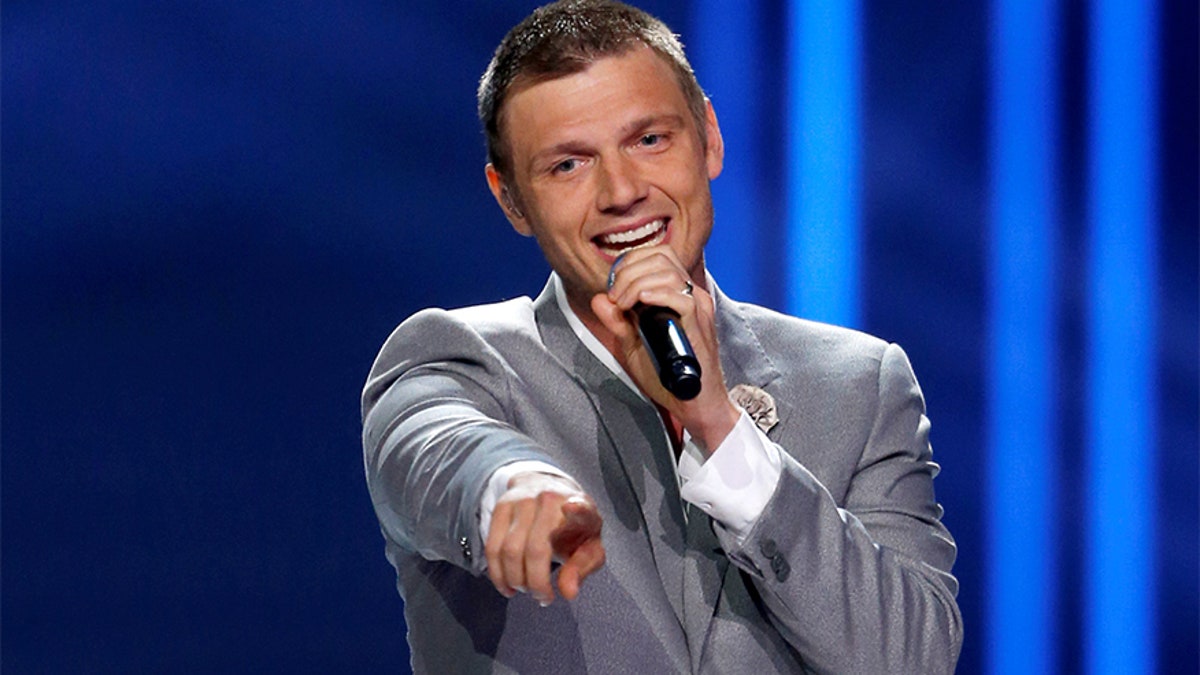 As someone who's been performing for 24 years and sold more than 75 million albums, it's safe to say Nick Carter knows a thing or two about boy bands.
So when he was asked to scout the next legion of heartthrobs on ABC's new reality TV series "Boy Band" alongside Timbaland and Spice Girl Emma Bunton, the decision was a no-brainer.
"Other than One Direction, there really hasn't been boy bands that have made an impact recently," the 37-year-old told Fox News. "For me, it's just a chance to give back and share my knowledge and experience. And to get it right this time."
Carter joined '90s pop sensation Backstreet Boys when he was just 13-years-old. Today, the chart-topping quintet is leading a Las Vegas residency that was extended into 2018.
"For us, this is a dream," he explained. "These are my brothers and we're going through a whole other phase in our lives where we have this huge success in the peak of our career… We're all able to relive our musical catalog and see it in a whole new light.
"And it's funny, we know what someone [in the band] is going to say before they even say it. That's basically what it's come down to now… it's like you're in a marriage with someone for so long. You just know that person, you know what they're going to say before they even say it or what they're going to do."
That same enthusiasm for the Backstreet Boys is the reason why Carter was compelled to help form a supergroup on the show.
"I think the reason people really love boy bands so much is because in the world that we live in right now, with all of the things that's going on, boy bands are some of the purest things that can take your mind from everything," he said. "And if you put great music behind it, and they have charisma and that sense of showmanship… I think it's a win and something that America is longing for."
For Carter, life has been difficult lately. In May, his father Robert Carter died at age 65.
"We are taking it one day at a time and coping with it the best way we can," he said of his family. "Nobody can ever prepare for anything like that, regardless of my issues with my family. He's still my father. So obviously, I've been conflicted, sad, mourning, angry, and all the different things that you go through in that process of grief. But again, we're dealing with it the best way we can."
And just a few years before, Carter was dealing with other personal struggles. In 2012, his sister Leslie died from an overdose. Then in 2013, Carter told Fox News he sought help for his drug addiction. But things are looking up now with the support of the Backstreet Boys.
"You know, I'm definitely doing much better than I ever [did] before," he said. "I really [attribute] it to hard work and always realizing that I'm not perfect and it takes just work on yourself as a person. Whether that's therapy, staying physically active, reading — just keeping myself occupied with productive and healthy things… I had a really hard upbringing when it came to my parents and everything I had gone through. And so, when I was troubled, I think that's how I got through everything, by having my brothers show me their values."
Despite the tragedies in his life, Carter has a new outlook on life, which he says has come along with becoming a dad. In 2016, he and his wife Lauren Kitt Carter welcome a son named Odin Reign.
"It's been great to be able to hold my son and to see him in the most innocent stage of his life, knowing all the things I know," he explained. "I'm able to get it right and do much better. Obviously, not every parent is perfect. And I realize that. But I'm doing everything I can… I love it.
"And it gets tough because when I'm away, I get a little sad because I am very busy now. I'm very fortunate for that. And it's crazy, I'm busier than I've ever been before. [But] I told my wife, 'Once we start filming, I'm going to bring him on set with me.' He'll be with me whenever I can. I'm just trying to be the best father I can be."
Carter is happy to share all the lessons he's learned throughout his years both on stage and off-camera. And he would even give some no-nonsense advice to a young Nick Carter.
"Surround yourself with people that you respect, the people you look up to, the people that do good things," he said. "And that's what we want to do with this group. If you're a really young Nick Carter, and you have issues, you have things that you're going through, look up to someone. Find someone you can look up to and respect. Someone that is good for you and does healthy, constructive things."
"Boy Band" airs Thursdays at 8 p.m.