Author sues Disney for $250 million, claiming movie 'Frozen' copied her life story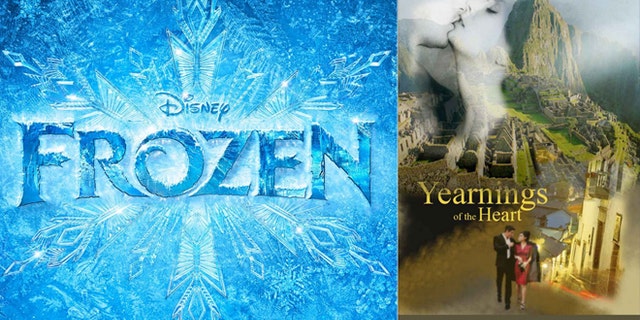 NEWYou can now listen to Fox News articles!
Mayim Bialik is not the only one who hates Disney's hit movie "Frozen."
A Peruvian author is claiming Disney plagiarized the story from her autobiography, "Yearnings of the Heart" – not from Hans Christian Andersen's fairy tale, as the company has said – and she wants her money.
Isabella Tanikumi, whose birth name is Amy Gonzalez, has filed a lawsuit for copyright infringement worth $250 million against Disney.
"These books deal with the story of two sisters who have tragedies, romances, conflicts, isolation and loneliness and there are significant similarities with your movie."
The little-known author claims in the lawsuit that Disney copied the story, characters and plots of her 2010 novel and turned it into "Frozen" — the studio's highest grossing animated movie of all time.
According to Amazon's synopsis of the autobiography, it is a "compelling, introspective account of the life of Isabella Tanikumi, who takes her readers on a journey through various phases of her remarkable life – from her family's survival during the devastating earthquake of 1970 in Huaraz, Peru, to the trials of overcoming the reaches of her intellect while facing the tragic and untimely death of her beloved older sister Laura."
In the lawsuit, filed earlier this month in federal court in New Jersey, Isabella claims Disney plagiarized her own life story in 18 different ways.
"I recently purchased and viewed your movie 'Frozen' with my daughter and was appalled at what I observed," Isabella wrote in an accompanying text to the lawsuit, of which Fox News Latino got a copy.
Her published and copyrighted work, she says, deals with "the story of two sisters who have tragedies, romances, conflicts, isolation and loneliness and there are significant similarities with your movie."
Among the similarities, according to Isabella, her story begins in the town of Huaraz "at the base of snow-covered mountains where she lives with her parents and sister Laura." Frozen too takes place in a village (Arendelle) at the foot of snow-covered mountains — where Elsa and Anna, two sisters, live with their parents.
At the heart of Isabella's claim is that Disney copied her relationship with her older sister Laura. The lawsuit claims that, just like Frozen's Elsa and Anna, Laura and Isabella had opposite hair colors, both had horses and both shared a deep love for one another.
A critical part of Frozen's movie plot is when Elsa accidently hurts Anna with her wintry magic, and a troll king heals her by removing her memory of the whole incident. Well, that too, according to Isabella is not an original Disney idea.
Isabella claims her sister has no memory of an accident she caused that did severe damage to Isabella's face after falling in hot custard. Isabella had to cover up her facial injuries with concealing creams and had terrible fears of going out. In "Frozen," Elsa had to cover up her hands to conceal her magic and is afraid of going out. Because of the accidents and subsequent "defects," both Isabella and Elsa become defensive out of embarrassment and fear.
Isabella also claims her two romantic interests – Hans and Christoff – inspired "Frozen"'s two male characters Hans and Kristoff which had a romantic interest in Anna. Also like Isabella, Anna falls in love with a dark-haired tall and fair man (Prince Hans of the Southern Isles).
Finally, like in "Frozen," when Anna dies in a severe accident, Laura also died in a severe accident — the only difference is Anna comes back to life in the movie.
Neither Isabella nor Disney responded to calls seeking comment.
Disney's "Frozen" has grossed an astronomical $1.2 billion at the global box office, and its lead song "Let It Go," performed by Idina Menzel, gave songwriter Robert Lopez the coveted EGOT (Emmy, Grammy, Oscar and Tony) wins.
But that hit soundtrack, apparently, is plagiarized too.
Isabella claims that, "through various sources, I am aware that writers in the music industry have taken portions of my stories to develop songs for popular artists and these writers may have corroborated with the writers of 'Frozen'."
There is no mention of a talking snowman in this lawsuit. For now, Olaf is safe.