Attorney for alleged John Travolta harassment victim was sued by actor Verne Troyer over sex tape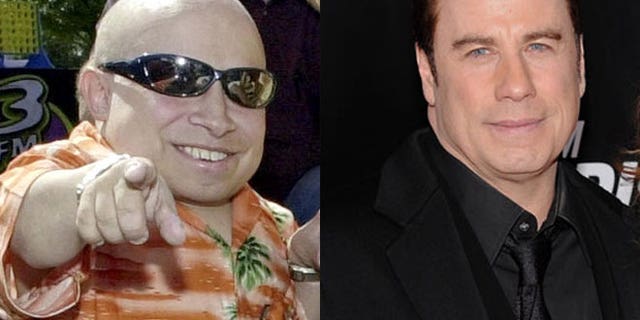 The John Does versus John Travolta sexual harassment lawsuit scandal has taken a strange new twist.
John Doe number one, who filed the first suit against the prominent actor in Los Angeles last week, was dropped as a client by attorney Okorie Okorocha. The shake-up came after the anonymous plaintiff admitted he "got the date wrong," having alleged Travolta acted inappropriately during a massage in the Beverly Hills area on January 16. However, Travolta's camp was able to provide evidence that he was in New York on that date.
John Doe one also released a statement to RadarOnline.com earlier last week, wishing Travolta and his counsel "good health and happiness."
"Okorocha did not feel he could represent John Doe number one going forward anymore and recommend him finding another lawyer," a source told RadarOnline with regards to the severed lawyer/client relationship. "He is still representing John Doe number two and other alleged victims who are possibly coming forward."
Okorocha told FOX411's Pop Tarts column the reason he dropped the unidentified masseuse was due to "a conflict of interest with two clients."
But it seems Okorocha has been caught on the other end of a sex-related lawsuit scandal of his own.
In July 2008, "Austin Powers" star Verne Troyer filed a lawsuit against two women Renae Shrider and Holly Bannon, as well as Okorocha, who he claimed was working with Bannon and "acting as a broker to exploit" and sell a sex tape between the "Mini Me" character and his ex-girlfriend, Shrider.
At the time, he told the Associated Press that he had never seen the tape and simply tried to negotiate a deal between Troyer and a client who has since dropped him. The case was later dismissed for failure to prosecute, however Troyer was previously successful in having the sex tape blocked from release.
"Hard to recall what happened, but I think he wanted to tape back and I never had it," Okorocha told us. "I am positive they found out who had the tape and it was not me."
Lawyers for Troyer did not respond to a request for comment.
However, it seems the Travolta suit may get ugly not only when it comes to the plaintiffs and the defendant, but between the lawyers on either side.
Last week, Travolta attorney Marty Singer not only called the allegations against his client "absurd and ridiculous" and threatened the accusers with a malicious prosecution lawsuit, but he also threw blame at Okorocha, and told the Hollywood Reporter that the lawyer was warned about the consequences of filing suit, but decided to proceed with the "very salacious" suit.
Singer also vowed to sue both the accuser and attorney for filing a lawsuit "without any foundation or concern for reputation."
But according to a defamation expert, attorney Mitchell Langberg of Brownstein Hyatt Farber Schreck LLP, there is a good deal or protection for attorneys and most are protected under the guise of "litigation privilege." He also said that while the sudden client/lawyer separation between Okorocha and the first plaintiff, coupled with the "wrong date" technical legal significance, it could potentially hinder the validity of the remaining and/or future claims.
"It has been made clear that the first case is suspect," he added. "Judges are people and these things do color the way people feel about a case."