Anti-harassment group 'Time's Up' launched by Hollywood insiders to support victims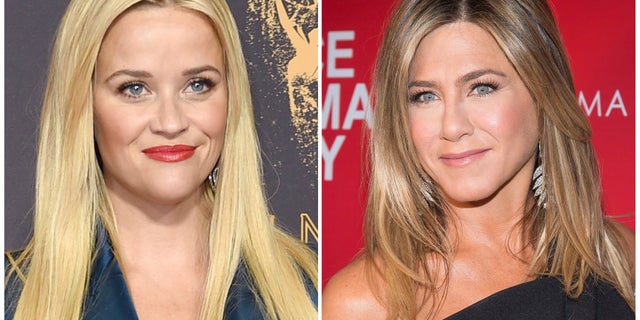 More than 300 members of the entertainment business, including Hollywood elites Reese Witherspoon and Jennifer Aniston, signed a "letter of solidarity" Monday launching a coalition working to combat harassment in the workplace "across all industries."
Per their website, the initiative called "Time's Up" was designed to lend support to victims, bring about legislative change and to raise legal funds "to help survivors of sexual assault and harassment across all industries challenge those responsible for the harm against them and give voice to their experiences."
"From movie sets to farm fields to boardrooms alike, we envision nationwide leadership that reflects the world in which we live," the website said.
"We remain committed to holding our own workplaces accountable, pushing for swift and effective change to make the entertainment industry a safe and equitable place for everyone, and telling women's stories through our eyes and voices with the goal of shifting our society's perception and treatment of women," according to the letter.
BIGGEST ENTERTAINMENT STORIES OF 2017
The group reportedly was spurred on by the recently revealed allegations of sexual assault and harassment rocking the entertainment business, including disgraced movie mogul Harvey Weinstein. Following the revelations, the women said they received a "powerful and compassionate message" of unity from the National Farmworker Women's Alliance, who shared their own experiences of harassment.
"To the members of Alianza and farmworker women across the country, we see you, we thank you, and we acknowledge the heavy weight of our common experience of being preyed upon, harassed, and exploited by those who abuse their power and threaten our physical and economic security," the letter from "Time's Up" read.
Since the launch Monday morning, several other entertainers have donated and shared their support.
Justin Timberlake tweeted, "No more accepting sexual harassment and inequality at work as normal. It's NOT normal. #TIMESUP"
GAL GADOT, HALLE BERRY AMONG GOLDEN GLOBES 2018 PRESENTERS
Actress Megan Mullally, known for her character Karen on "Will & Grace," tweeted in unity, adding, "it's just the beginning."
"i stand with women everywhere to say #TIMESUP," she wrote. "the @TIMESUPNW Legal Defense Fund provides subsidized legal support to those who have experienced sexual harassment, abuse, or assault in the workplace. it's just the beginning. sign our solidarity letter now!"
Actress Viola Davis tweeted, "I stand with women across every industry to say #TIMESUP on abuse, harassment, marginalization and underrepresentation."
And, actress America Ferrera shared her "enormous gratitude" to the members of the National Farmworker Women's Alliance "& the 700,000 female farmworkers they represent for their beautiful letter of solidarity with our industry. We thank you. We stand with you #TIMESUP for every industry!"
Time's Up also has backed the movement for women to wear black, in solidarity with those who have been sexually harassed, at Sunday's Golden Globe Awards ceremony.
The Associated Press contributed to this report.