Anthony Bourdain blasts Hillary Clinton's 'shameful' interview regarding Harvey Weinstein
Celebrity chef Anthony Bourdain bashed Hillary Clinton on Twitter Wednesday calling her interview on CNN about Harvey Weinstein "uninspiring," "shameful" and "disingenuous."
The "Parts Unknown" host is dating actress Asia Argento, one of the women who came forward and accused Weinstein of raping her. Bourdain tweeted his praise and support of his girlfriend on Tuesday, stating he was "proud and honored to know you."
Clinton appeared on Fareed Zakaria's CNN show Wednesday and addressed the Weinstein's allegations. Weinstein has contributed hundreds of thousands of dollars to the Clinton Foundation and contributed $46,350 to her 2016 presidential campaign.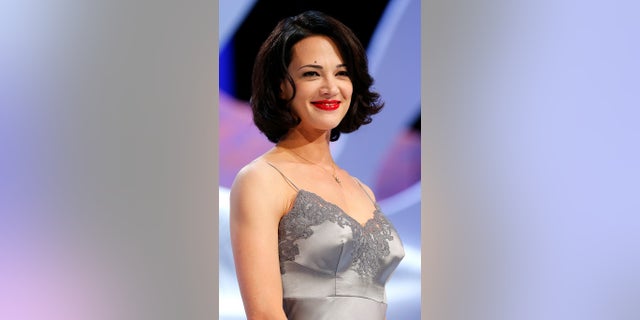 ASIA ARGENTO'S BOYFRIEND ANTHONY BOURDAIN SPEAKS OUT FOLLOWING HARVEY WEINSTEIN RAPE ACCUSATION
"I was — I was just sick," Clinton told Zakaria. "I was shocked. I was appalled. And, you know, like so many people who've come forward and spoken out, this was a different side of a person who I and many others had known in the past."
Clinton told Zakaria she was not aware of Weinstein's actions.
"I certainly didn't, and I don't know who did. But I can only speak for myself, and I think I speak for many others who knew him primarily through politics," Clinton said.
Weinstein and his family have given more than one million dollars in political contributions to Democratic lawmakers, candidates and their allies, the nonpartisan Center for Responsive Politics reported.
Clinton said she would donate the money she was given by Weinstein to charity.
Bourdain took to Twitter to share his thoughts in a series of tweets.
"And I have to say, Hillary's interview with Fareed Zakaria was shameful in its deflection and its disingenuousness," Bourdain tweeted.
"Know what Hillary Clinton is NOT? She's not stupid. Or unsophisticated about the world. The Weinstein stories had been out there for years," Bourdain continued.
He added, "Secretary Clinton was one of the most intelligent, well prepared, well briefed politicians ever. So, yes. I'd hoped for a better response."
HILLARY CLINTON BREAKS SILENCE ON HARVEY WEINSTEIN: 'I WAS SHOCKED AND APPALLED'
However, Bourdain, whose show is broadcasted on CNN, also tweeted he admired Clinton but felt the interview was "a real disappointment." He also reiterated that Clinton was not responsible for anything Weinstein has done.
"I can assure you that the victims of Mr. Weinstein's three decades of predatory behavior are disappointed too. I'm sitting next to one," Bourdain said of his girlfriend, Argento.
Bourdain concluded: "This Weinstein story is deeply personal to me -- and far far far more personal and painful to people I love and people I care about."
While the former Democratic presidential nominee did not respond to Bourdain, her former campaign spokesman Brian Fallon did, inviting the TV chef to "eat a scorpion."
Clinton was criticized earlier this week for remaining silent following the expose released by The New York Times last week that claimed Weinstein had settled sexual harassment lawsuits with at least eight women. The New Yorker followed up Tuesday with more allegations.
Clinton released a statement through her spokesman Nick Merrill on Twitter Tuesday following the New Yorker's bombshell report.
"I was shocked and appalled by the revelations about Harvey Weinstein," she stated. "The behavior described by women coming forward cannot be tolerated. Their courage and the support of others is critical in helping to stop this kind of behavior."
The Associated Press contributed to this report.