Andrew Zimmern says Anthony Bourdain talked about happiness in their last conversation before death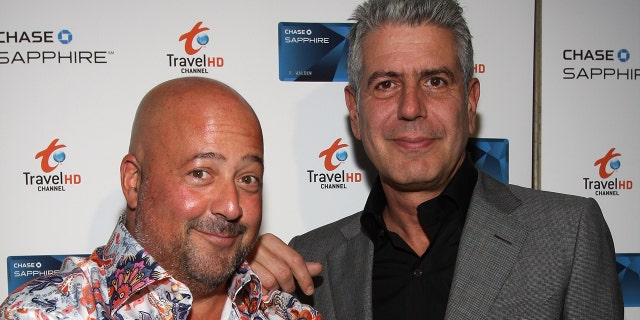 "Bizarre Foods" host Andrew Zimmern said Anthony Bourdain told him to pursue his own happiness in their last conversation before the celebrity chef's death earlier this year.
Zimmern opened up to People on Wednesday about the advice he received from Bourdain, who was found dead in a bathroom of his French hotel room in June.
"[Bourdain] was telling me about pursuing my own happiness and he gave me his long sort of speech about it, that I deserved to be happy and I was like, 'That is so great, where did you get that little nugget?'" Zimmern told People, adding that he also gave Bourdain the same advice years ago.
"I had said the same thing to him about five years earlier, which is great because sometimes you even know things yourself but you need to have a friend repeat it back to you," the host said.
Zimmern previously told Eater he, much like Bourdain, dealt with his own mental health issues. He found Bourdain "an incredible sounding board." Zimmern also recalled the "Parts Unknown" host telling him he's "never been happier" in the last few years.
"Tony was a close friend of mine and it was a beautiful relationship. I'm a transparent person and sober a long time and deal with my own mental health issues, and I try to have honest conversations with people in my life. He was an incredible sounding board, a gracious and kind friend to me," Zimmern told Eater.
ANTHONY BOURDAIN, CNN HOST AND CELEBRITY CHEF, CAUSE OF DEATH REVEALED
Nearly four months after Bourdain's death, Zimmern told People on Wednesday that he still thinks about his late friend "all the time."
"I always gave him a lot of grief about his desert boots. He was wearing cowboy boots a lot early on — these beige, leather cowboy boots — for the first four or five years that we were friends and then he kind of switched over to the desert trekking boot," Zimmern recalled. "He thought that was so funny and he sent me a pair that I have, and yeah, I look at them every day that I'm home."
The boots were the same ones Zimmern tweeted in his tribute to Bourdain on the day of his death.
"I'm so angry this morning. Life is f—ing hard and crazy and Tony I love you," Zimmern captioned a photo of the shoes.
"I'm wearing your boots that I never wore because they were yours and going to work. Everyone should hug some extra people today. My heart is heavy," he tweeted.