Andrea Correale's Father's Day Cookout Recipes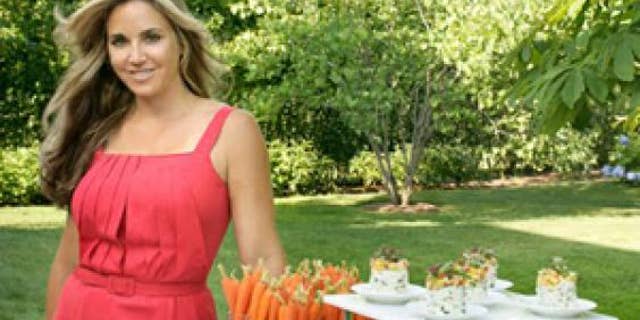 NEWYou can now listen to Fox News articles!
Skirt Steak Marinade
Ingredients:
1/2 cup scallions (sliced)
1/2 cup soy sauce
1/2 cup brown sugar
3 tbsps fresh ginger (grated)
3 cloves garlic (smashed)
1 Onion, quartered
Mix all ingredients in a Ziploc bag and marinate steak for 4-8 hours before cooking.
Louisiana Dry Rub for Porterhouse Steaks
Ingredients:
1/4 cup Coarse Salt
1/4 cup Paprika
1 T Dried Thyme
1 T Dried Oregano
1 T Coarse Pepper
1 T Onion Powder
1 T Garlic Flakes (or Granulated)
2 t Cayenne Pepper
1 t Ground Bay Leaf
Preparation:
Combine all ingredients as shown. Add more Cayenne Pepper for additional heat. Rub on porterhouse steaks for a maximum of one hour prior to cooking.

Loaded Baked Potato
Ingredients:
4 medium baking potatoes
1 cup prepared shredded BBQ pork
1 cup shredded cheddar cheese
4 tbsp sour cream
1 tbsp chopped chives
Preparation:
Split open warm baked potatoes.
Heat shredded pork bbq in a pan.
Add 1/4 cup shredded cheese to each potato.
Add 1/4 cup hot shredded pork bbq to each potato.
Top each with 1 tbsp low fat sour cream and enjoy

Buffalo Chicken Meatballs with Bleu Cheese Dip
Ingredients:
2 tablespoons vegetable oil
4 tablespoons (1/2 stick) unsalted butter
1/3 cup Frank's Red Hot sauce or any other favorite hot sauce
1 pound ground chicken, preferably thigh meat
1 large egg
1/2 celery stalk, minced
3/4 cup breadcrumbs
1 teaspoon salt
Preheat the oven to 450F. Drizzle the vegetable oil into a 9 x 13- inch baking dish and use your hand to evenly coat the entire surface. Set aside.
Combine the butter and hot sauce in a small saucepan, and cook over low heat, whisking until the butter is melted and fully incorporated. Remove from the heat and allow the mixture to cool for 10 minutes.
Combine the ground chicken, hot sauce mixture, egg, celery, bread crumbs, and salt in a large mixing bowl and mix by hand until thoroughly incorporated.
Roll the mixture into round, 3/4-inch balls, making sure to pack the meat firmly. Place the balls in the prepared baking dish, being careful to line them up snugly and in even rows vertically and horizontally to form a grid. The meatballs should be touching one another.
Roast for 15 to 20 minutes, or until the meatballs are firm and cooked through. A meat thermometer inserted into the center of a meatball should read 165F.
To make Bleu Cheese Dipping Sauce:
Buffalo Blue Cheese Dip (Tin Can Alley Bowl)
Ingredients
1 (8-ounce) package cream cheese at room temperature
1/2 cup flat leaf parsley
1/4 cup green onions
1/2 cup sour cream
2 Tablespoons white wine vinegar
1 clove garlic
1 teaspoon hot sauce
1 teaspoon lemon zest
1/2 teaspoon pepper
1/2 cup crumbled blue cheese
Preparation
Using a food process, process everything except the blue cheese until it blends together. Add the blue cheese and pulse until it incorporates into the dip. Chill for 2-4 hours before serving. Garnish with a drizzle of hot sauce.
Guacamole Appetizers
Tricolor Tortilla Triangles
Ingredients
Peanut oil, for frying
8 corn tortillas, spinach tortillas, tomato tortillas
Tossed with Sea Salt and Cracked Pepper
Directions
Heat 1-inch of peanut oil in a large frying pan over medium-high heat to 350 degrees F.
Arrange the tortillas in a stack and cut into 6 equal wedges like a pizza. Fry a few chips at a time, turning occasionally with a slotted spoon, until crisp and lightly browned, about 1 minute or less. Drain chips on a paper towel-lined plate; sprinkle lightly with sea salt and cracked pepper and serve with guacamole.
Ultimate Guacamole
4 ripe, Fresh California Avocados, seeded and peeled
3 limes, juice only
2 medium tomatoes, chopped
1 medium white onion, chopped fine
¼ tsp. ground black pepper
½ tsp. salt
2 cloves fresh garlic, minced
â…› tsp. cumin
â…› tsp. cayenne pepper
Pinch sugar
1 serrano chile, chopped fine
1 bunch cilantro, chopped
Place avocados in a bowl and mash with a fork.
Immediately mix in remaining ingredients; serve immediately.
Layer Guacamole in a large shot glass and serve with tortilla triangles in the tops for individual servings
Roasted Shallot Dip with Bacon
Ingredients:
1 1/2 pounds shallots, unpeeled and root ends trimmed
3 garlic cloves, unpeeled
2 tablespoons vegetable oil
1 (8-oz.) container sour cream
1 (8-oz.) container mascarpone cheese
1/3 cup thinly sliced fresh chives
1 tablespoon fresh lemon juice
2 teaspoons whole grain Dijon mustard
3/4 teaspoon kosher salt
1/2 teaspoon freshly ground black pepper
Dash of hot sauce
Garnishes: cooked and crumbled bacon, lemon zest, chopped fresh chives
Preparation
1. Preheat oven to 425°. Cut shallots in half. Toss together shallots and next 2 ingredients in a jelly-roll pan; sprinkle with desired amount of salt and pepper. Bake 45 to 50 minutes or until shallots are light brown and skins are charred, stirring twice. Cool completely in pan on a wire rack (about 30 minutes). Remove and discard papery skins from shallots and garlic, and coarsely chop shallots and garlic.
2. Stir together sour cream and next 7 ingredients; fold in shallot mixture. Add salt and pepper to taste. Cover and chill 4 to 48 hours. Stir before serving. Add salt and pepper to taste just before serving, if desired.
Note:
Make Ahead: Prepare recipe up to 2 days in advance; chill in airtight container. Let stand at room temperature 30 minutes before serving.
Chipotle Aioli with Pepper Garnish
Ingredients:
6 tablespoons mayonnaise
2 teaspoons chopped chipotle chiles in adobo
2 tablespoons chopped fresh cilantro
1 teaspoon minced garlic
1/2 teaspoon cumin
4 teaspoons fresh lime juice
sea salt & freshly ground black pepper, to taste
Preparation:
Put all ingredients in a blender and blend until smooth.
Transfer to a bowl and top with diced pepper garnish.