'Anchorman 2' star David Koechner says sequel will not disappoint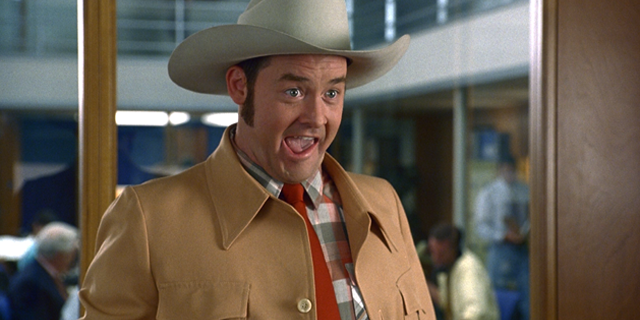 LOS ANGELES – He has one of those familiar faces you know you've seen, but just can't remember where. He's acted in everything from "Austin Powers," "The Dukes of Hazzard" and "Thank You for Smoking," to "Saturday Night Live," "The Office," "Final Destination 5" and "Behind the Candelabra."
Oh yeah, and "Anchorman."
His name is David Koechner. Raised in a small town in Missouri, the 51-year-old comedic actor started out in college as a political science major before being lured to Chicago, and later the bright lights of Hollywood, to try his hand at show business. But as a happily married and devoted father of five, Koechner has some concerns about the messages being put out there by some of his counterparts in the entertainment arena.
Like Miley Cyrus.
"We're in a unique time. There has never been this much access to information. (You have to wonder what's happening) when to get attention you have to get naked and stick a foam finger in a married man's crotch," Koechner told FOX411. "I'm not a puritanical guy, but come on… There are expectations on young girls to do things in high school that wouldn't happen until the third year of marriage. There is this expectation that there will be naked pictures of you out there, and there are people videotaping sex acts at (high school) parties."
However, the actor is adamant that such behavio, is not Hollywood's fault.
"Don't blame Hollywood. Blame society. You can only tend to your own backyard," Koechner said. "It's a big learning cycle, and no one really knows the consequences yet… It's the Internet. Hollywood doesn't produce even a fourth of what is out there on YouTube."
But what does come out need not always contribute to the moral decline of Americans. Koechner has his own popular YouTube channel and online web series entitled "Full On Koechner," and he fully embraces the possibilities of Web-based content.
"It's stuff I wouldn't have done otherwise, it's a chance to experiment," he said. "You can shoot it and put it up immediately if you want too."
Next up on a much bigger screen, Koechner is bringing back the beloved Champ Kind in one of comedy's most talked about sequels, "Anchorman 2: The Legend Continues" set for release on December 20. With the 70s behind them, San Diego's top rated newsman, Ron Burgundy (Will Ferrell) and his team take on the 1980s for New York's first 24-hour news channel.
Koechner said there will be plenty of laughs and "no one is going to be disappointed," and also pointed out the popularity of "Anchorman" speaks to a growing fascination with the news media.
"(The media) has this responsibility to deliver information and we're supposed to trust them," he noted. "But I think since Watergate, there is a sense of mistrust over what we're being told."
And as for how Koechner has managed to survive cutthroat Tinseltown and amass more than 160 credits to his name, well, it's a little luck, talent and the power of the push.
"It's persistence," he added. "And always assuming that there is going to be more work."