'America's Got Talent' recap: Homeless teen wows One Direction star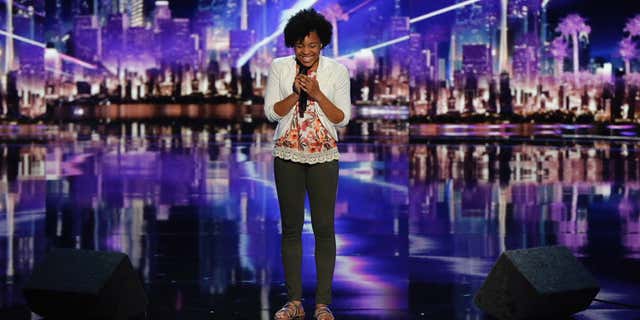 A homeless teenager from Baltimore received the final golden buzzer Wednesday night on "America's Got Talent."
But it was a congratulatory hug from guest judge Louis Tomlinson that left 14 year-old Jayna Brown jumping up and down and shouting, "I am going to die!"
Prior to her cover of the Audra Day hit "Rise Up", the young singer was visibly trembling as she stood in front of the One Direction star.
"It is not just one thing with you," Tomlinson told her. "It's not just the voice. It's not just the performance. You have everything and it is so infectious to watch you perform!"
Judge Simon Cowell declared: "You, young lady, have just turned this competition upside down."
Jayna was one of the final seven acts to advance to the live rounds of the competition, which kick off July 26 in Los Angeles.
She will be joined by:
VIKTOR KEE (Juggler)
Simon Cowell doesn't like jugglers, but he was clearly moved by the Ukranian performer, who performs in a body suit that appears to resemble the muscles of the human body. Viktor, 45, dedicated his act to his recently deceased brother. "You are everything that this show is about," Mel B. said. "I want to come and see your show."
THROWINGS (Acrobats)
Married performers Annie and Andre upped the ante in their second performance by having Annie perform their routine blindfolded! "You are worthy of being here," judge Howie Mandel said. "And I believe, worthy of going on."
THE CLAIRVOYANTS (Mentalists)
Twenty-something Austrian mentalists Thommy Ten and Amelie van Tass left everyone in the audience stunned (again!) when she successfully guessed the entire serial number from a random $100 bill in Simon Cowell's pocket.
OUTLAWZ
The five dancers from Gilbert, Arizona failed to impress judge Heidi Klum during their first audition. This time, they came with a new and improved routine that even the supermodel could not help but love.
MUSICALITY
This high school vocal group from Chicago's south side has overcome many obstacles — including the murder of one members' sister. Their emotional performance of Demi Lovato's "Skyscraper" was one of the highlights of the final "Judge Cuts" episode.
SOS & VICTORIA PETROSYAN (Quick Change Artists)
They can change their entire outfits in the blink of an eye. But this act also incorporates other types of illusions and magic.
Next up: the live shows where 12 acts will perform each week for America's votes.
"America's Got Talent" airs Tuesdays and Wednesdays on NBC.