America Ferrera switches to political role, stumps for Hillary Clinton in Colorado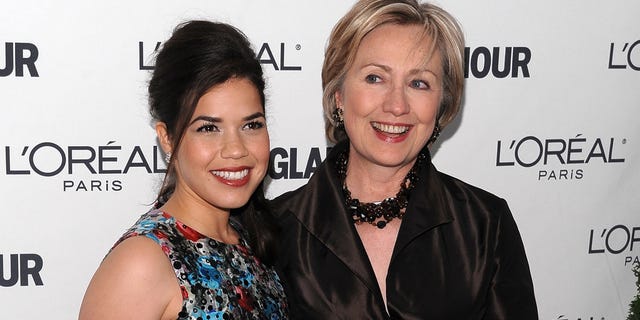 Hillary Clinton has the full support of America (Ferrera).
The "Superstore" actress is in Colorado this week stumping for the former Secretary of State as she pursues the White House for the second time.
Ferrera, 31, will be joining Clinton's daughter Chelsea at a couple of events in Denver, where they are expected to motivate Latinos to let their voice be heard at the caucuses on March 1.
They were holding events at the Agora and at the University of Denver on Thursday and sitting down for an informal "cafecito" with a multi-generational group of Latinas at 910Arts in Denver of Friday.
Ferrera, best known for her award-winning role in "Ugly Betty," has been an avid supporter of Clinton ever since her 2008 presidential run, so it's no surprise that she is campaigning for her this time around.
Lorella Praeli, the Latino Outreach Director for the Clinton campaign, told Fox News Latino on Wednesday they are really excited to have Ferrera on board — especially leading up to the Nevada and Colorado caucuses.
"(Ferrera has) been a strong supporter of HRC for a long time," she said. "She brings a strong voice to the conversation and [for me, as] a young Latina, it's important to have voices we can trust."
Praeli added: "When it's America sitting across from you in a room full of Latinas talking about why it's important to mobilize voters and how they will impact this election … it's significant because she has been a prominent voice for Latinos."
She called Latino voters the "sleeping giants" of these elections and said that the Clinton campaign has committed to make sure they are fully engaged.
The "Sisterhood of the Traveling Pants" actress is not the only Latina celebrity to voice their support for Clinton.
Last month Demi Lovato joined the Democratic presidential candidate in Iowa, adding on Instagram: "I couldn't have been more excited to support such a courageous, loving and #CONFIDENT woman in Iowa... It was an honor to share the stage with you in your campaign to become the FIRST WOMAN PRESIDENT OF THE UNITED STATES!!!! You have my vote!!!"
Mexican-born actress Salma Hayek even kicked off Clinton's "Latinos for Hillary" campaign last October while singer Marc Anthony added his voice when he brought Clinton onstage at his concert in Miami.
"This election is important for the future of the Latino community, our vote could make the difference," Anthony tweeted with a video of the two on stage.
In addition, the Latino Victory Fund/Project, co-founded by Eva Longoria, were announcing its endorsement of Clinton on Thursday.