Alexa Vega, Joanna Garcia Swisher & Ada Alvarez Fight Domestic Violence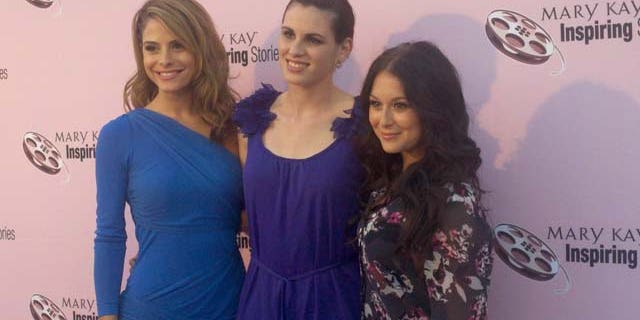 It was a night where female celebrities shined for a cause.
Movie actress Alexa Vega , TV actress JoAnna Garcia Swisher and TV presenter Maria Menounos, along with other women alarmed by the issue of domestic violence, joined their talent to say "No more violence. "
These and other celebrities made their appearance early this week at the premier of three empowering documentaries produced in order to commemorate the Domestic Violence Awareness Month.
"With these documentaries, we expect to confront the situation by encouraging people to talk about it, raise awareness and stop domestic violence, " Alexa Vega (Spy Kids) said during the red carpet event, Mary Kay's Inspiring Stories, that took place at a fancy boutique located on famed Sunset Strip in West Hollywood.
The three documentary categories, "Give Joy," "Give Hope" and "Give Dreams," were presented to show various moving testimonials from survivors of domestic violence.
"We are four women in my family and when I knew that 1 in 3 women in the world would suffer domestic violence in their lifetime, I got so scared thinking this could happen to me or to one of my sisters", she added.
JoAnna García Swisher, from TV show "Better With You," said that "This is not just a problem, is an epidemic."
The National Network to end Domestic Violence reported that more than 70,648 victims are assisted by them in a day. And also, the Futures Without Violence organization found that 15.5 million of children in the United States live in a family environment where one of the parents have suffered from domestic violence within last year.
"Unfortunately, our surveys show that domestic violence has increased since the economic recession, due to financial issues", said to the audience Karen Rogers, Vice President of Mary Kay Foundation.
Among the victims of domestic violence that participated in the filmmaking of one of the documentaries, Give Dreams, is Ada Alvarez. She is a journalist, author of the novel 'Lo Que No Dije', and a survivor of domestic violence.
"I was a victim of violence during courtship on my teen years," Alvarez said. "I work a lot for this cause, particularly among the Hispanic community, and sadly I have realized that 2 out 4 victims are Latinas."
This mostly caused by "a stigma on getting divorced in the Latino's culture", Alvarez noted.
"What we want to achieve eagerly is men to join this cause. Because they need to know what a healthy relationship is and how to respect their women," she said.
Esmeralda Fabian is a freelance reporter for Fox News Latino.
Follow us on twitter.com/foxnewslatino
Like us at facebook.com/foxnewslatino