A&E celebrates Christmas with 'Duck Dynasty' super marathon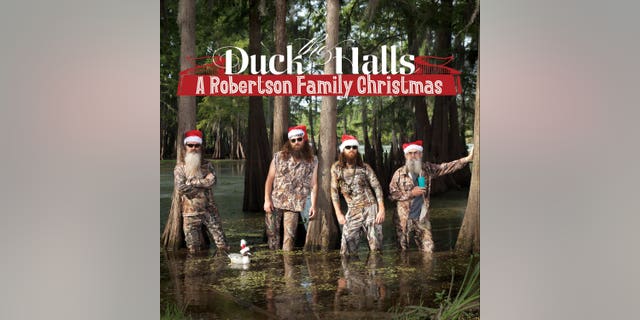 A&E may have given "Duck Dynasty" star Phil Robertson the heave-ho when they suspended him from future episodes of the show last week, but the network is still welcoming him home for holidays.
The channel is celebrating Christmas with a staggering 25 consecutive episodes of their No. 1 show, beginning at 3:30 p.m. on Christmas Day and running until the wee hours of Dec. 26.
According to the schedule on A&E's website, the Robertsons will take over the channel until 4 a.m., and then paid programming —meaning infomercials—will kick in.
And don't think controversial papa Phil will be left out of the Christmas Day airings. He is a key character in plenty of the episodes scheduled to air, including "Quack-O-Lantern" and "Drag me to Glory."
For Christmas, A&E is just giving the fans what they want, said Cate Meighan, senior writer for Celeb Dirty Laundry.
"I think, honestly, it's A&E trying to play both sides of the coin," she said. "They've come out and not supported Phil's statements… however they're also looking at the backlash from the fans, and they have a huge amount of backlash from the fans."
Plus, in the TV world, it all comes down to money, she said. "Duck Dynasty" is the networks top show, and it has reeled it more than 14 million viewers at its peak, which means big advertising bucks for the network.
"It is really a money thing," Meighan explained. "You're going to have the same people tuning into 'Duck Dynasty' that always have and the same people not watching that always have."
She said at the end of the day, the series will likely continue if the advertisers continue rush to air ads during the series. If they don't, the spotlight will likely fade.
"Unfortunately people are secondary," she said. "At the end of every single thing that we see it's about the money and the advertising."
So will the fans tune in on Christmas to celebrate with the Robertson clan?
"I think the same people that watch will find themselves gravitating in after holiday dinner… after 10 Christmas movies you're [ready to watch something else.]"
Phil Robertson and the series came under fire last week when GQ published graphic comments he made about his condemnation of homosexual sex. He was subsequently suspended from the series indefinitely, and the family has stated they are hesitant to continue with the show if Phil will not be part of it.
Season 5 of "Duck Dynasty" premieres Jan. 15. Phil is slated to appear in several episodes that have already been filmed.
A&E did not respond to FOX411's request for further comment.