Adam Lambert Comes Out in Rolling Stone Magazine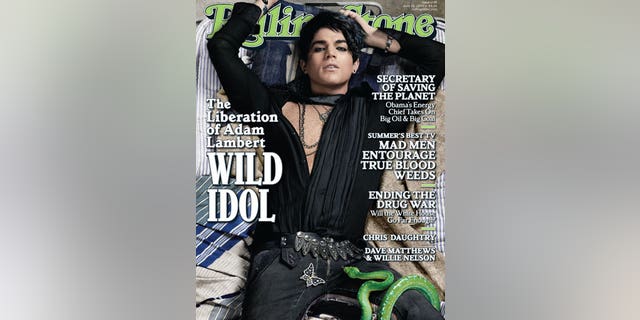 NEW YORK – "American Idol" runner-up Adam Lambert has landed the cover of Rolling Stone magazine, where he talks about sex, drugs and his "Idol" experiences.
The 27-year-old singer from San Diego acknowledges in an interview that he's gay, and says it shouldn't come as a surprise to anyone.
"I'm proud of my sexuality," he says. "I embrace it. It's just another part of me."
Lambert says he was inspired to audition for the Fox network singing competition after having a "psychedelic experience" at the Burning Man festival in Nevada. There, he says, he experimented with "certain funguses."
"I knew that it was my only shot to be taken seriously in the recording industry, because it's fast and broad," he says of "Idol."
Lambert emerged as an early front-runner and judge favorite, thanks in part to his soaring vocal range.
When he moved into the show's Bel-Air mansion with the other finalists, he roomed with Kris Allen, who won the "Idol" title over Lambert last month.
"I was like, `Oh, (bleep), they put me with the cute guy,"' Lambert says. "Distracting! He's the one guy that I found attractive in the whole group on the show: nice, nonchalant, pretty and totally my type — except that he has a wife. I mean, he's open-minded and liberal, but he's definitely 100 percent straight."
According to Rolling Stone, Lambert was open about his sexuality backstage at "Idol." In March, photos surfaced online of Lambert kissing his ex-boyfriend.
"Going into `Idol,' I assumed, `OK, people are going to talk,"' he says. "I mean, I've been living in Los Angeles for eight years as a gay man, I've been at clubs making out with somebody in the corner. But photographic evidence? Didn't count on that. Wasn't ready for that."
He says he worried that a public announcement would overshadow his singing, so he decided not to respond and largely kept his personal life under wraps on the show.
"I'm an entertainer, and who I am and what I do in my personal life is a separate thing," he says. "It shouldn't matter. Except it does. It's really confusing."
Lambert says he isn't interested in being the poster child for gay rights. "I'm trying to be a singer, not a civil-rights leader."
He also reveals that he began smoking pot and tried Ecstasy for the first time while performing in a European production of "Hair" in his early twenties.
"I've finally checked in to my self-worth for the first time in my life, and the fact that it has coincided with `Idol' is so sweet," he says. "I mean, I still have moments where I think, `Oh, my skin is terrible, and I'm a little fat, I should really go to the gym more.' But for the most part, when I look in the mirror now, I finally see someone who can do something cool."