Actress Tippi Hedren reveals her award-winning off-camera role post-Vietnam War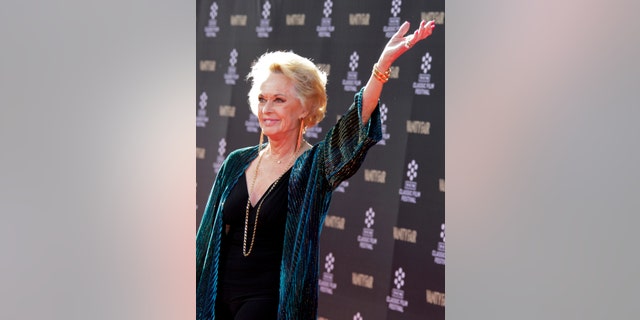 LOS ANGELES – Tippi Hedren is recognized among moviegoers for her starring role in Alfred Hitchcock's 1963 thriller "The Birds," but to many Vietnamese immigrants, she's better known as a great American hero.
The 83-year-old Hollywood veteran was honored earlier this week in Beverly Hills with the Legacy of Style Award by Beauty Changes Lives and Creative Nail Design for her commitment and contributions to the professional nail industry – a devotion that was first initiated decades ago through a USSO tour to support U.S. troops during the Vietnam War.
"Hollywood celebrities like Bob Hope would go to give moral support to the men and women who fought. In 1969, Tippi Hedren came and I had the honor to host her on my talk show in Vietnam," recalled Vietnamese-American actress Kieu-Chinh. "Then the war escalated and Saigon fell to communism. I had no place to go. I fled with nothing but the clothes on my back; with a few dollars in my pocket I tried to approach my Hollywood connections from my talk show. After a few failed attempts my hope was about to fade away when I called Tippi, the person I had met nine years ago."
In that moment of desperation, Hedren assured Kieu-Chinh that she would not only take care of her, but would make sure she had the opportunity to pursue the American Dream.
"Tippi took me to her house. I lived with her and wore her clothes and ate her food; she drove me around and helped me get the paperwork I needed to stay in this country legally. She also enrolled me into the Screen Actors Guild and found me an agent at William Morris so that I could also work in Hollywood. I am now a US citizen," Kieu-Chinh continued proudly. "I would like to take this opportunity to say thank you America and Americans for opening up their arms and hearts when we needed them the most."
And Hedren's good deeds did not stop there.
"All of these incredible people wanted to leave Vietnam because they did not want to be under a Communist regime, risking their lives to get freedom. We helped (refugees) get their drivers licenses, get sponsors, we tried to help them get jobs. I brought in seamstresses and typists and people who could teach them a craft, and I asked my manicurist to come up and teach them a procedure and they would practice," Hedren told FOX411.
"They didn't want to be a burden to the United States, and all twenty of them have gone to different areas of California and it has been an exciting business to see grow…Because this was not a popular war, when the refugees came over they were not treated well. But it all seemed so wrong to me… It was something I felt in my heart and it was so important that I found a job for these women, and I did."
Hedren's granddaughter, Dakota Johnson, has taken up the family business, but she's set to star in, well, a different type of thriller. Johnson, who is the daughter of Hedren's actress daughter, Melanie Griffith, will play Anastasia Steele in the S&M-heavy film adaption of "Fifty Shades of Grey," slated to hit theaters next summer.
"Whenever my daughter, who is a consummate actor, [Griffith's husband] Antonio Banderas, also a consummate actor, my granddaughter and I get together we have never discussed each other's business," Hedren added. "It is because we respect each other's business. And that is that. So no I have not read the book ('Fifty Shades') and I won't read the book."

Good idea, grandma. Good idea.
Danielle Jones-Wesley contributed to this report