Actress sued by TV producers for refusing to perform topless sex scene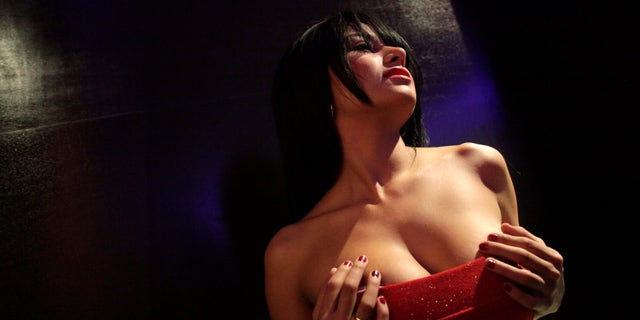 LOS ANGELES – An actress is being sued by a production company for allegedly refusing to film a topless simulated sex scene on Cinemax, after she sued them for asking her to take off her shirt and perform said simulated acts.
The countersuit by True Crime LLC comes two years after actress Anne Greene filed a complaint in the Los Angeles Superior Court against Time Warner, HBO, Cinemax and True Crime. Greene said in the suit she was "bullied into performing nude scenes, sexually harassed and placed in a dangerous work environment" during the filming of an episode of "Femme Fatales" for Cinemax, which is owned by Time Warner's HBO division.
The actress claimed she was "blindsided" by rewrites requiring her to perform simulated sex, that "inappropriate sexual comments" were directed to her by crew members, and that the set was open with non-essential members of the production team on hand for the racy scene.
HBO said in a statement that Cinemax was dismissed from the case last year. But with the trial just two months away, The Hollywood Reporter revealed this week that True Crime has filed a cross-complaint alleging that the actress breached her contract.
The suit claims that Greene "arrived on set, reported to wardrobe on time, but then abruptly refused to report to the set, expressing for the first time, contrary to the express terms of the Employment Agreement and Nudity Rider, that she was not comfortable performing the scene topless or allowing herself to be filmed topless."
L.A.-based entertainment attorney Julian Chan told FOX411 that a nudity rider is common practice in the entertainment industry and is an often very detailed agreement to inform a potential actress of the nature of her expected performance.
The complaint goes on to allege that Greene's issues with the sex scene arose at the last minute and caused "substantial delay and disruption" on set. As a result of her discomfort, the production company needed to employ a body double and decided to allow Greene to wear pasties for the scene to partially cover her breasts.
True Crime's court documents claim that the use of the body double and extended set time and editing came at a cost, but they allowed Greene to have her way—though she was violating her contract—because it was too late to recast her.
So which way is this trial likely to swing?
"Whether or not this woman will prevail in her lawsuit will largely depend on what the terms of her employment agreement were. She [should have] had an agent and representation before signing, thus claiming ignorance as to the terms of her agreement would not be considered credible in court," explained California trial attorney Anahita Sedaghatfar.
And according to lawyer Leo Terrell, of CleartheCourt.com, the courts are almost guaranteed not to favor Greene.
"If she signed a contract which states she must perform nude scenes, then she cannot claim she was being harassed when she is being asked to be nude. In regards to the production companies' counter suit against the actress, they will likely win," he said, adding that Greene should not have been allowed to be exempt for the nude scene on the basis she felt uncomfortable. "For [the actress] to unilaterally modify the contract and no longer do the nude scene when production has commenced will cost the production companies lots of money."
Time Warner and True Crime LLC did not respond to a request for comment. Greene and her legal representative declined to comment.
Follow @holliesmckay on Twitter.
Danielle Jones-Wesley contributed to this report