Accused Erin Andrews Stalker Granted Bail, Denied Internet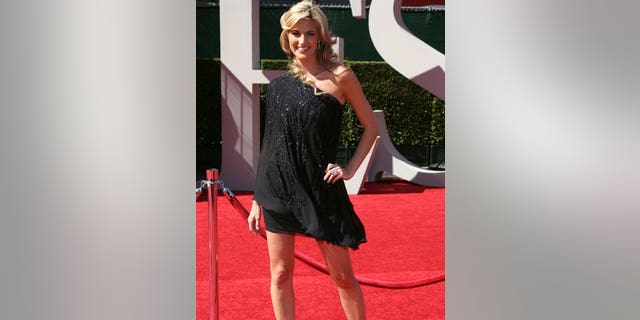 NEWYou can now listen to Fox News articles!
An insurance executive accused of secretly making nude videos of ESPN reporter Erin Andrews apparently uploaded videos of other unsuspecting nude women to the Internet, a federal prosecutor said Monday.
Michael D. Barrett, 47, was ordered released on $4,500 bond but was ordered to wear an ankle monitoring bracelet, to adhere to a strict curfew and not to use the Internet. He is due in U.S. District Court in Los Angeles on Oct. 23 to face federal charges of Interstate stalking. Barrett is accused of trying to sell the videos to Los Angeles-based celebrity gossip site TMZ.
Barrett continues to be a danger to Andrews and "a danger to other women," Assistant U.S. Attorney Steven Grimes told U.S. Magistrate Judge Arlander Keys during Barrett's bond hearing Monday.
SLIDESHOW: Click for pictures of Erin Andrews.
LIVESHOTS: Accused Stalker Free But Monitored
"Yes, Judge, there are other women," Grimes said. "He has used his computer to disseminate these videos to the world."
Grimes said the government has confiscated two computers and cell phones used by Barrett, and "feels strongly that those items will provide further evidence."
Like the Andrews videos, the videos of the other women were shot through a door peephole and uploaded to the Internet under a name Barrett used, "GOBLAZERS1," Grimes said.
Andrews appears in at least eight videos nude. An FBI affidavit said Barrett specifically asked for a room next to Andrews at a Tennessee hotel where seven videos were likely taken, apparently through an altered peephole. An eighth video may have been shot at a Milwaukee hotel.
Barrett was described by his attorney, Rick Beuke, as having plenty of money and a good track record at work. Beuke said his employer, the Combined Insurance Co., based in Glenview, where he is in insurance sales, is "very supportive."
Beuke told reporters after court that Barrett has many friends and that the person described in an FBI affidavit released Saturday "is certainly not the Mike Barrett that any of us know." He said he had spoken with Barrett's parents, who live near Portland, Ore., and "this is a tough time for them."
He said Barrett's friends have called to find out if they can help.
"I don't want to minimize the seriousness of what Mr. Barrett is charged with here," Keys said. He described it as "a very horrific crime." But he said Barrett had strong friendships in the community as well as a steady job, no criminal record and no sign of drug or alcohol abuse.
Marriott International Inc. and Ramada Worldwide, which operate the hotels where the videos may have been shot, have issued statements saying they are concerned about their guests privacy and safety, are looking into the matter and are cooperating with authorities.
Interstate stalking carries a maximum penalty of five years in federal prison and a fine of $250,000.