Aaron Carter says he's 'very healthy,' single and no longer a Trump supporter ahead of new album release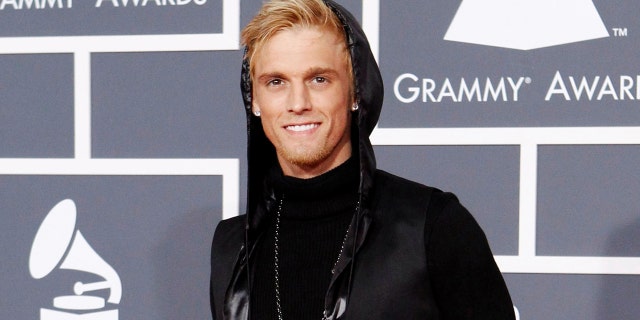 As Aaron Carter, the early millennium singer famous for hit songs like "Aaron's Party" and "That's How I beat Shaq," gears up to release his first album in 15 years, the revamped artist, who's had a controversial past, is ready to reinvent himself.
"It's been a long time since I have released any music, so I just feel excited and ready," Carter told Fox News.
Carter said he is ready to take on 2018 with new music and a new outlook on life. The singer's first album in more than a decade is the result of hard work that followed hard times.
The 30-year-old singer has made headlines in recent years for rumored drug abuse and his public ups-and-downs. He openly struggle with his health, admitting in 2017 that he was close to 115 pounds due to malnourishment he said was caused by past trauma. In December, the singer, who said he suffered from a severe eating disorder and PTSD, checked his himself into a rehab center after a series of cascading life events pummeled him all at once.
He appeared on the show "The Doctors" in September and was told by professionals his mix of drugs could lead to an accidental death.
"Life, it was pretty tough," he told Us Weekly last year. "I dealt with a lot of trauma, a lot of loss, a lot of loneliness. I just felt like I needed to get away."
After a stint in a Malibu rehab and a 45-pound weight gain, Carter, who once said that he wasn't sure if he'd make it to the age of 30, has a much better outlook of the pivotal age. With his life turned in a new direction, the singer revealed that he is looking forward to a year with a lot less road bumps.

"No challenges hopefully, but I mean if there is a challenge, I mean I am also up for it," Carter said. "I'm in a really good place emotionally and mentally, so those are really good things – took sometime to focus on myself, mind body and soul, you know? Got all my stuff together and just got my artillery ready for 2018."
The singer said he is focused on rebuilding and rebranding his image, which comes with new and different life views.
In a 2016 interview with GQ, Carter discussed a tweet he wrote in which he called himself a Trump supporter. But the singer says his political views have changed since that time in his life.
"I am actually not a supporter of Trump, I've gone on the record multiple times saying that. I tweeted that a few years ago – a couple of years ago? And you know it was – my fans were quick to enlighten me about why I shouldn't be a supporter."
Carter said he isn't looking to dwell on those days, hoping that his upcoming album can help introduce fans to a "new Aaron."
"...When I am performing I will I'll do throwback songs, but I don't really go that route," he explained. "I like to focus more on the now and where I am now and where I am today and what I want to sing about. So, you know – it's changed. It's no different [than] growing up, you know you grow up and you've changed as has my music."
Carter opened up about his new album, "Love," which he got the chance to co-produce and write on.
"The new EP is something that I am really proud of," he told us. "I feel really connected with it."

The "Don't Say Goodbye" singer explained that his new album was inspired by his personal relationships and is more "real" than anything he has done before.
"You know with this generation, there's a lot of music always coming out, so you've just got to stay on top of your game," he said. "It's a content game and you know just gotta keep pushing out content and never stop. There's a lot of talented people still, but I don't really look at it like a competition with everyone else, it's kind of like golf – you're playing for yourself."
Carter, who has dealt with fame's inconsistencies for the majority of his career, said he is looking forward to a successful and productive year.
"I'm happy, very healthy. I am looking forward to this year because I get to get back on tour – see all my fans on the East Coast, doing a lot of gigs on the East Coast."
Last year, the singer came out as bisexual, but stated that his sexual orientation "doesn't play a factor" in his new album.
In fact, during the album's production, the artist had two separate relationships with two women who he said helped influence his work. But since the completion of "Love," the singer stated that he is no longer in either of those relationships.
"I have moved on from those relationships and the music was very relative to me at the present time."
But Carter said what he wants fans to take away from his new music is more than just his current relationship status.
"I'm person just like them, I go through pain and heart ache just like lots of people in this world go through, so that is pretty much what I've been writing about and the content that I wanted to put out there was what I am going through in my relationships, so I am pretty excited to see people's reactions when I release the album," the artist said.
Carter said his main focus right now is bettering himself.
"I'm just focusing on myself right now, a lot of self love and self care," Carter said. "Touring and introducing the new music to everyone – that's the goal for 2018."
Listen to Carter's new album "Love" here.