Venezuelans forced to use cardboard coffins as inflation rates and poverty soar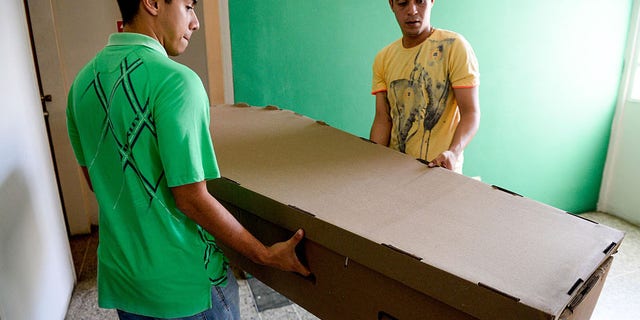 The economic crisis seems to be affecting every corner of life in Venezuela, even death.
As the South American nation grapples with soaring inflation, rising murder rates and shortages of basic supplies and medicine, there is one more thing that Venezuelans are having problems getting their hands one: coffins.
The situation has become so dire that many cash-strapped Venezuelans have resorted to burying their deceased loved ones in cardboard boxes. Coffins made of more durable materials can, however, be rented for a few hours to use during the funeral.
"It is more expensive to die here than to stay alive," funeral director Ronald Martínez, from the northern city of Maracay, told Agence France-Presse.
The coffin crisis has become so acute that many families have been forced to bring their loved ones to crematoriums in bags.
"I felt so depressed. I didn't have all the money the funeral parlor was asking for," Miriam Navarro, who had to borrow money from neighbors to bury her brother, told AFP. "If it hadn't been for people in my community, I would have had to bury him in the yard."
While many Venezuelans used to favor brass coffins instead of wooden ones because they were cheaper, the collapse of the price of oil has greatly diminished the amount of the metal that's produced.
Adding to the scarcity of coffins is the massive rise of inflation in Venezuela, which has driven the price of a funeral up by about 600 percent in the last two years to around 280,000 bolívars, about $425 by the official exchange rate, but much higher in secondary or black-market rates. Opponents of Venezuelan President Nicolás Maduro blame his government's economic mismanagement for the current financial quagmire, while the socialist leader claims it is a plot of the U.S. and other capitalist nations to destabilize the country.
The minimum wage in Venezuela is 33,000 bolívars, about $50 U.S. dollars, and a coffin used to cost only about 720 bolívars. Today, that is the cost of a loaf of bread.
Grieving Venezuelans can now either buy a fiberboard coffin for around 55,000 bolívars, or rent one for 25,000.
"That kind is cheaper and no one notices that it is not made of wood or is second-hand," Martinez said. "I change the interior, and sometimes I repaint it."
Another alternative, touted as both economical and environmentally-friendly, is the "bio-urn," which are manufactured from reinforced cardboard made out of 70 percent recycled material. While the coffins were originally intended for families who choose cremation – a technique that has gained popularity among mourners who can't afford a burial plot – makers say that they are stronger than fiberboard coffins and can be used to bury a body as well.
"It is meant for cremation but can also be used for burials. It offers a solution for a country in crisis," manufacturer Elio Angulo told AFP, noting that their 50,000 bolívar price "is economical and accessible to Venezuelans who do not have enough money to get by."
He added, "Nowadays, dying is making a lot of people poor."