Thousands of Venezuelans flock to Colombia to buy food, medicine after border reopening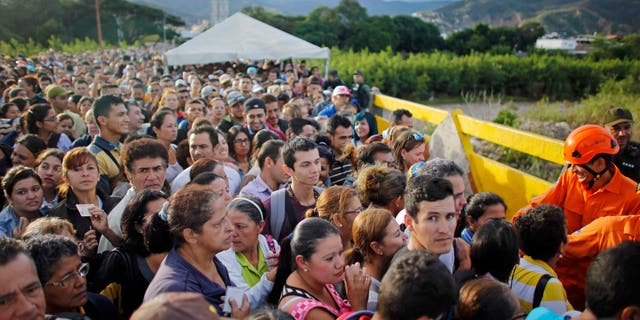 NEWYou can now listen to Fox News articles!
SAN ANTONIO DEL TACHIRA, Venezuela (AP) – Thousands of Venezuelans on Saturday crossed into Colombia to buy food and medicine under the first step of a controlled, gradual reopening of the border.
Five pedestrian border crossings opened for the day early Saturday under an agreement for the eventual full restoration of border traffic.
Venezuelans were required to provide their personal information and explain why they are going into Colombia.
Presidents Nicolas Maduro of Venezuela and Juan Manuel Santos of Colombia agreed Thursday to the gradual reopening of their 1,380-mile border after the Venezuelan government nearly a year ago closed crossings to crack down on smuggling.
Officials alleged that speculators were causing shortages in Venezuela by buying up subsidized food and gasoline and taking them to Colombia, where they could be sold for far higher prices.
The five checkpoints will now be open to pedestrians from early morning to 9 p.m. each day.
Among those crossing the border on Saturday to go shopping was government worker Nancy Cardenas, who was greeted by a military band playing tropical tunes as she left Venezuela's Tachira state to enter Colombia.
Cardenas said, "there is no rice, sugar, nor toilet paper," in her city of San Cristobal.
Heriberto Salinas said he was traveling to Colombia to buy medicine for his wife's thrombosis.
Venezuelans have been desperate to cross into Colombia to buy basics as shortages worsen in their economically struggling country, an OPEC member that has been hit hard by the fall in oil prices.
Hundreds of Venezuelans stormed a border checkpoint in July and illegally crossed into Colombia for the day to go grocery shopping.
In the weeks after that, Venezuela temporarily opened the border for short periods to allow people to buy food and medicine. More than 100,000 Venezuelans crossed into Colombia during a temporary weekend border opening in July.
Like us on Facebook
Follow us on Twitter & Instagram