UN panel to rule WikiLeaks' Julian Assange was unfairly detained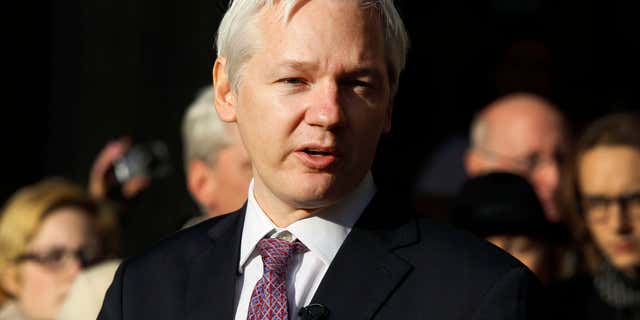 NEWYou can now listen to Fox News articles!
A United Nations working group is set to announce Friday that WikiLeaks founder Julian Assange was unfairly detained inside the Ecuadorean Embassy in London where he's remained for more than 3 years to avoid extradition over sex crimes accusations, Sweden's foreign ministry reported.
Assange had complained to the U.N. in 2014 that he was "deprived of his liberty... for an unacceptable length of time," because London police have vowed to arrest him if he leaves the embassy.
Still, the U.N. decision is nonbinding, and British police said Thursday they would still seek to arrest him if he leaves the embassy. He claimed asylum there in 2012.
The U.N. ruling could, however, influence how aggressively Swedish prosecutors pursue Assange for questioning about allegations of sexual misconduct.
Per E. Samuelsson, a Swedish lawyer for Assange, told The Associated Press that if the panel's decision goes his way, prosecutors should "revoke" the arrest warrant and "set him free." Samuelsson added that "if it happens that way, it will be a victory."
Sweden has seen the report, to be published Friday, and the Geneva-based U.N. panel concluded that it was an "arbitrary" detention. "It is a different assessment than what the Swedish authorities have made," Foreign Ministry spokeswoman Katarina Byrenius Roslund said, declining further comment.
Assange voluntarily took refuge in the Ecuadorian Embassy in London to avoid extradition to Sweden where two women have accused him of sexual assault.
He has said his main legal concern is a possible indictment against him in the U.S. on charges related to WikiLeaks' release of government cables.
He has expressed the fear that British and Swedish authorities plan to send him to the U.S. to face charges against him there.
British police guarded the Ecuadorean Embassy for several years but removed the round-the-clock security cordon in October.
Police said they would still seek to arrest Assange if he leaves the embassy because of a valid arrest warrant. Police said both overt and covert means would be used to keep track of Assange.
The Associated Press contributed to this report.