Kofi Annan's son surfaces in offshore accounts document dump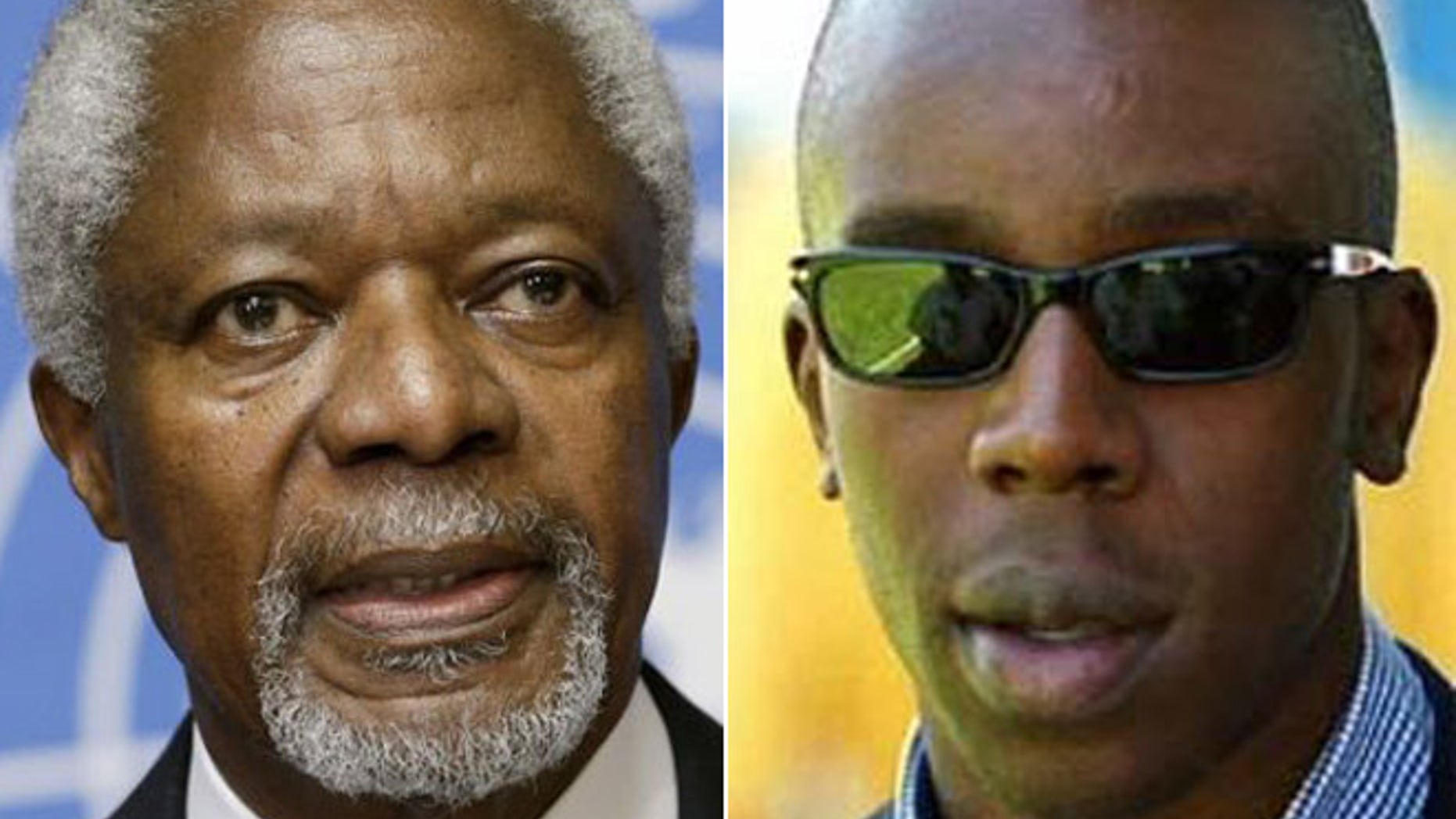 The son of former United Nations Secretary General Kofi Annan surfaced in the global document dump that has some of the world's most powerful players quaking, and it is the second time the diplomatic scion's name has come up in an international finance scandal.
Kojo Annan's is just one of several familiar names trickling out of the trove of 11.5 million documents leaked from Mossack Fonseca, the Panamanian law firm that helped some of the world's richest people set up offshore bank accounts. Documents, leaked first to a German newspaper and then shared with a handful of international media outlets, reportedly show that Annan used a Mossack Foseca-arranged offshore account to buy a London apartment for more than $500,000 in 2003.
The exact price of the apartment was not immediately known, but its address is listed as "Argyll Mansions" in correspondence with Mossack Fonseca that continued into last year.
Annan's business interests "operate in accordance with the laws and regulations of the relevant jurisdictions and, insofar tax liabilities arise, they pay taxes in the jurisdictions in which taxes are due to be paid," a lawyer for Annan told Modern Ghana, the country where his father grew up and which has served as a base for the family. The younger Annan was born in Geneva.
Kojo Annan, 42, was accused of wrongdoing nearly 20 years ago in the United Nations' oil-for-food program. Although he was never prosecuted, he was accused of helping his Swiss-based employer, Cotecna, land a $10 million-per-year contract through the UN program while his father ran the world body. The $64 billion oil for food program allowed Saddam Hussein's Iraq to sell its oil through brokers in exchange for food and medical aid under a plan aimed at allowing the nation to feed its people without investing in armaments.  Cotecna's contract was for verifying humanitarian goods exchanged for Iraqi oil.
Annan quit working at Cotecna in 1998 and a UN-appointed panel that investigated the program issued a report in 2005 saying it found no evidence that he used family connections to help his employer. Still, curious billings to Cotecna seemed to indicate he was being paid for meeting with his father, even as the UN oil-for-food contracts were being awarded.
Annan also made news in 1998 when he bought a green Mercedes SUV in Europe and had it shipped to Ghana by invoking his father's name and influence, saving an estimated $20,000 in customs duties. Critics of the oil-for-food program, which ran from 1996 to 2003, suspected it was an international boondoggle and that Annan's wheels – and now perhaps his apartment – were bought with kickbacks, though no wrongdoing was ever proven.
More names are expected to come out of the massive trove of documents. British Prime Minister David Cameron's late father, the president of Ukraine, and several close confidantes of Russian President Vladimir Putin have been named in the documents. Although offshore bank accounts are in many cases legal, the documents could show how some of the world's wealthiest and most powerful people move their money and dodge taxes.
"There are lots of reasons for "offshore" bank accounts, some legitimate, some not, said Fox News contributor and former U.S. Ambassador to the UN John Bolton. "In the case of Putin and the Russian oligarchs, there is little doubt that they are simply stashing their ill-gotten gains in a safe place in case they have to flee.
"As for Kojo, nothing he does surprises me," Bolton added. "He was living off his father's name, and his father gave him cover. Good riddance to both of them."
German newspaper Süddeutsche Zeitung obtained the documents from a confidential source and then shared the files with other media organizations including The New York Times, The Wall Street Journal, The Guardian and the International Consortium of Investigative Journalists.