Italian professor warned of potential disaster 2 years before Genoa bridge collapse
A raised highway in the Italian city of Genoa crumbled to the ground Tuesday due to possible structural weaknesses exposed during a violent storm -- and a professor may have predicted the disaster two years ago.
At least 20 people were killed and more than 10 others injured when the Morandi Bridge collapsed just after 12 p.m. Tuesday. Several vehicles were crushed amid the rubble as rescuers rushed to the scene to find survivors. About a 650-foot section of the bridge was obliterated.
The bridge, part of the A10 Highway that connects Italy and France, was inaugurated in 1967 and praised during its construction as the solution to a maddening traffic problem. Designed by engineer Riccardo Morandi, the bridge was a little longer than half-a-mile and nearly 300 feet high.
But the structure was constantly being repaired -- despite being labeled a "masterpiece of engineering." Antonio Brencich, an engineering professor at the University of Genoa, said in July 2016 the bridge must be replaced or rebuilt.
"The Morandi bridge is referred to as a masterpiece of engineering, in reality it is a bankruptcy," Brencich said in an interview with primocanale.it. "There will be a time when maintenance costs will exceed those of reconstruction, and then we will have to proceed with the replacement."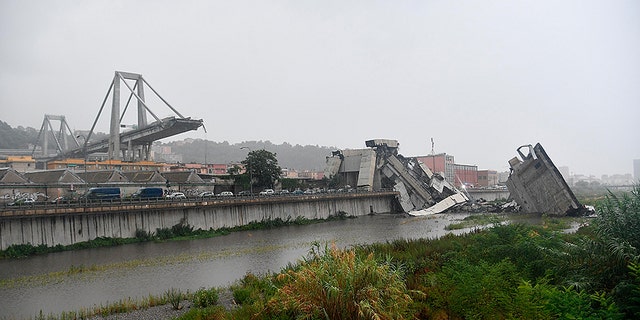 ITALIAN BRIDGE COLLAPSES IN GENOA, KILLING AT LEAST 22, OFFICIAL SAYS
The raised highway had already went through significant maintenance in the 1980s and 1990s. Work to rebuild concrete structures and make the structure safer was being done before Tuesday's disaster, Italy's motorway operator Autostrade said in a statement on Tuesday.
"The works and state of the viaduct were under constant monitoring and supervision," the statement said, according to Reuters. "The causes of the collapse will be thoroughly investigated as soon it is be safe to access the site."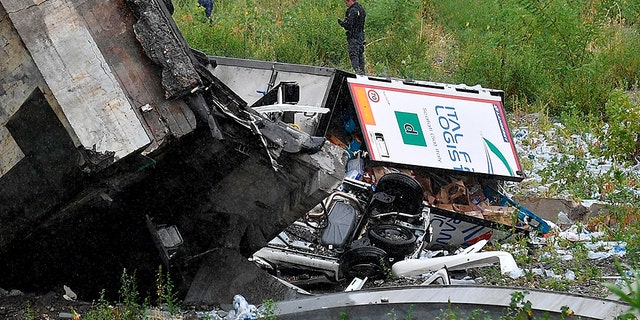 Italian officials have already spent 80 percent of the money used for the bridge's construction on the maintenance.
Brencich said there have been bridges that have stood for 100 years without any maintenance, proving the Morandi bridge is an "engineering failure."
The raised highway is an interchange between the northern regions of Lombardy and Piedmont and the beaches of Liguria, where many people travel to during the holiday.