In Amanda Knox Appeals Trial, Italian Defendant Takes a Backseat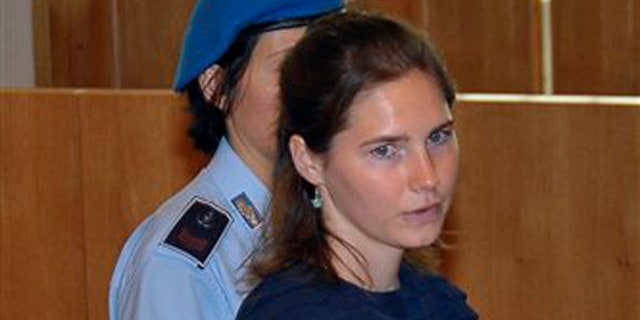 PERUGIA, Italy -- Prosecutors have portrayed Raffele Sollecito as a "dog on a leash," helplessly under the sway of Amanda Knox, his girlfriend of only six days when they became the main suspects in the 2007 murder of her British roommate.
Sollecito and Knox were convicted together in 2009; he received 25 years to her 26. And they are co-defendants again as they seek to overturn the guilty verdicts in an appeals trial. A decision is expected Monday.
Despite their intertwined legal fates, the 27-year-old Sollecito has become the forgotten defendant in the 4-year-old saga.
Even in Sollecito's native Italy, it is Knox who commands the most media attention. Two prominent celebrity and gossip magazines, "Oggi" and "Gente," put Knox on their covers during the final week of arguments in the appeals trial, and newspapers characterize him as being in the background.
Not even prosecutors have portrayed Sollecito as the main protagonist in the murder of Meredith Kercher on Nov. 1, 2007. According to their version, Sollecito held Kercher from behind while Knox stabbed her and another man tried to sexually assault her. Ivorian immigrant Rudy Guede was convicted in a fast-track trial and saw his sentence cut from 30 years to 16 years on appeal.
Attention during the investigation focused intensely on the two young female roommates as the world and prosecutors searched for a motive. Knox was portrayed as sexually promiscuous and lacking inhibition, while at the same time working hard to support herself and trying to learn Italian; Kercher was depicted as more serious and studious, who had at the end of her life began to chafe at her American roommate's sloppiness.
The good girl/bad girl dichotomy drove headlines across the globe, while Sollecito -- the mild mannered boyfriend -- was largely overlooked in a supporting role.
It's a role that his defense lawyer plays up. Sollecito is the son of a wealthy doctor from southern Italy who hired a crack legal team to defend his son. It's led by Giulia Bongiorno, who successfully defended former Italian Premier Giulio Andreotti on charges of mafia association.
"It's not by chance that Raffaele arrived in this trial as the boyfriend. Nothing connects Raffaele to the crime," Bongiorno said in her closing arguments last week. "With a girlfriend, you usually get a family. Raffaele got a murder."
She said the few pieces of evidence in the "Amanda-centric" trial relate to Knox, not to Sollecito.
"Nothing connects him to the crime," Bongiorno said.
During the investigation, Sollecito's wavy hair, innocent and lovelorn gaze through rimless glasses led some to liken him to Harry Potter. He was depicted as being in her thrall, and pictured embracing Knox outside of the hillside cottage where Kercher was murdered as investigators searched for evidence inside.
Sollecito was the pampered son of a well-off father. He had his own apartment in the university town where the norm was squalid shares. He drove an expensive car and had a maid.
Prosecutors have presented a darker side to the coddled image. His cash flow enabled him to indulge in drugs. He had a collection of sexually violent Japanese manga cartoons. Media also turned up a photo of him from a social networking site dressed as a mummy and brandishing a meat cleaver -- a pose which friends immediately dismissed as a prank.
Sollecito also collected penknives, and carried one with him when he was first questioned by police in Kercher's death.
His double-edged penknives have never been connected with the murder, although prosecutors allege a single-edged 31-centimeter (12.5-centimeter) knife found in his kitchen drawer some 20 minutes by foot from the scene of the crime was the murder weapon. His DNA was not found on the kitchen knife, but prosecutors have based their case largely around the finding that Knox's was found on the handle and Kercher's on the blade.
The most incriminating evidence against Sollecito is his DNA on the clasp of Kercher's bra, which had been detached from the garment and recovered from the scene several weeks after the murder.
An independent expert review allowed in the appeals trial concluded that the results on both the blade and bra clasp may have been contaminated. Such a review was not permitted in the earlier trial -- and has raised defense hopes of acquittals on appeal.
The review concurred that the genetic profile on the knife's black plastic handle could be attributed to Knox. Her defense has pointed out that she had prepared food at Sollecito's apartment.
Sollecito was awarded a degree in computer sciences after defending his thesis on genetic programming before a panel of professors who came to the prison. He even helped the prosecutor once when his computer jammed during the original trial. For a while, he wrote letters to a local media outlet in southern Italy, addressing supporters at home with "Dear friends of the square," where he shared musings about his time in prison.
More than 1,000 days in prison have hardened Sollecito. His hair is cut short. His gaze is more concentrated. But his lawyers say that his cool appearance should not be confused with detachment.
"To paint him as cold, with icy eyes, is not fair. He keeps his feelings to himself out of respect, but inside there is much more," defense lawyer Donatella Donati said in the final defense rebuttal on Friday.
On the eve of the appeals verdict, Sollecito was studying for an exam next week, his defense lawyer Luca Maori said. Sollecito's father has characterized him as frightened but confident.
Knox, meanwhile, attended Mass in prison Saturday afternoon and called her grandmother in Seattle. Prison chaplain the Rev. Saulo Scarabattoli said she was calm and collected.