French nuclear physicist accused of plotting attacks with Al Qaeda goes on trial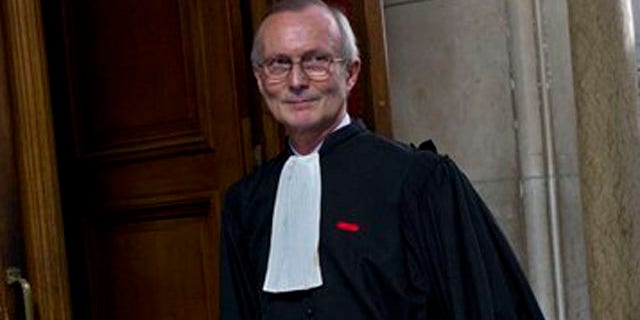 PARIS – A former nuclear physicist went on trial in Paris on Thursday on accusations of plotting attacks with the North African wing of Al Qaeda. But his defenders say he only sent some angry emails and fear he may be unfairly linked with a gunman who recently sowed terror in southern France.
Adlene Hicheur, who used to work at Europe's most prestigious particle accelerator, has been in prison for two and a half years awaiting trial. Now that the trial has started, his allies worry the timing couldn't be worse: it comes days after France's biggest terror attacks in years.
Earlier this month, in an apparently unrelated case, police say another young man of Algerian descent, Mohamed Merah, killed three Jewish schoolchildren, a rabbi and three paratroopers in the cities of Toulouse and Montauban and claimed ties to Al Qaeda. Merah, 23, was later killed in a shootout with police.
The rampage has shaken the French national psyche, and left Hicheur's lawyers eager to differentiate the two cases.
"I think that there should be no confusion between Mohamed Merah and Adlene Hicheur," said Hicheur's attorney Patrick Baudouin, who described Merah as a "crazy, dangerous criminal," with an arsenal of weapons and who said he received arms training in Pakistan.
"For Adlene Hicheur, there is nothing like that. He has a family, friends, working colleagues, a stable entourage. He has never been in Afghanistan nor in any other such country," he said.
Hicheur, 35, never took a single step toward carrying out a terrorist act, his defenders say. Rather, the accusations against him are based on "some comments via the Internet with somebody he absolutely didn't know, some comments which admittedly are criticizable, which admittedly can seem worrying to some extent, but which were comments that didn't go any further and remained just words," Baudouin said.
Hicheur's brother Halim lamented that after the killings in and around Toulouse in recent weeks, "Some people wanted to raise the specter of the terrorism threat by the Algerian, Muslim nuclear physicist, etc. All the key words you can name."
The Merah case has stirred up such a national fervor that re-election-minded President Nicolas Sarkozy has floated a proposal to make it a crime to repeatedly visit jihadist websites -- in part because French counterrorism officials fear "lone wolf" attacks by militants who self-radicalize online.
And Hicheur's case is all about the Internet.
While laid up with a herniated disk in 2009, Hicheur railed in various e-mails about the need to punish Western governments for the allegedly anti-Muslim wars in Iraq and Afghanistan, according to an order sending the case to trial.
Once a nuclear physicist at Switzerland's celebrated CERN laboratory, he stands accused of conferring with an alleged Al Qaeda contact about possible assassination or bombing plots. But his defenders say it was all talk, no action. Hicheur faces charges of "criminal association with a view to plotting terrorist attacks."
His advocates allege the Algerian-born scientist fits French authorities' "profile" for the homegrown terrorist they most worry about: Muslim, young, angry at the West, well-educated, Internet-savvy, and self-radicalized.
Hicheur is very well-educated, integrated into French society and never took any steps to gather weapons, his supporters say. But the threat that he posed seemed even more potent because of his access to a potential security hazard -- the CERN lab. He had no police record.
Merah, by contrast, struggled in school, ran with an ultraconservative Muslim crowd, and amassed a small arsenal. He claimed he stole to drum up money to buy weapons.
Hicheur was arrested in a pre-dawn raid on Oct. 8, 2009, at his parents' home in southeastern France, hours before he was to take a flight to Algeria to work on a real estate purchase, Baudouin said.
Baudouin said French investigators pored over about 35 emails between Hicheur and an alleged contact with Al-Qaida in the Islamic Maghreb. Some cited possible targets, including a French military barracks in the Alps.
Investigators say Hicheur, under police questioning, admitted that he believed a contact he had in the email correspondence -- a man in Algeria named Mustapha Debchi -- was part of AQIM. A police search of Hicheur's computer also turned up a file folder titled "tempo AQMI" -- for the group's French language acronym.
Debchi allegedly sought to persuade Hicheur to carry out a suicide bombing -- which he refused, responding that it was against Islam, and that he had no intention of dying prematurely, the court documents showed.
CERN adheres to the principle of innocence until guilt is proven and looks forward to Hicheur receiving a fair trail, research facility spokesman James Gillies said Wednesday.
Hicheur was on contract with CERN from the Swiss Federal Institute of Technology in Lausanne. A postdoctoral researcher, his contract with CERN expired at the end of March 2010, a few months after his arrest, according to institute spokesman Michael David Mitchell.
Hicheur is the only person to face trial in the case.
"I hope today that we'll have a trial that separates the context of the killings in Toulouse and Montauban, (and) that the case of Adlene Hicheur is judged individually," Hicheur's lawyer Baudouin said. "Hicheur mustn't be a scapegoat for a case he has nothing to do with."