Earthquake strikes near Tajumulco, Guatemala; at least 1 reported injured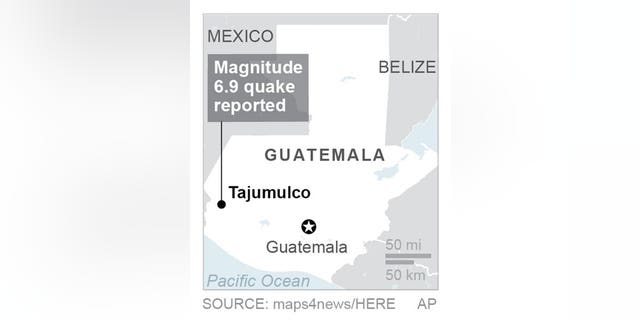 NEWYou can now listen to Fox News articles!
At least one person was injured after a 6.9-magnitude earthquake shook western Guatemala, near the border of Mexico, on Wednesday, damaging homes and triggering landslides, officials said.
The earthquake struck at 1:29 a.m. local time in the department of San Marcos west of the capital near the Mexican border, Guatemala's emergency coordination agency said. The epicenter was 20 kilometers (13 miles) west of San Marcos, Guatemala, which has about 25,000 residents. The tremors were felt throughout the country.
No tsunami warning was issued.
One man was injured when part of a church collapsed in San Sebastian Retalhuelu in southern Guatemala, the country's National Civil Police said.
Authorities reported several departments, or states, without electricity. School was canceled on Wednesday to allow officials conduct proper building inspections.
The region of the epicenter is mountainous and sparsely populated with communities scattered around the base of the dormant Tajumulco volcano. Most residents are small-scale farmers or run small businesses.
The earthquake swayed buildings in the capital waking residents, but not causing damage.
Across the border in Chiapas, Mexico, Gov. Manuel Velasco said via Twitter that there were reports of cracked walls and shattered windows in Huixtla, but so far no injuries. The state's Civil Protection authorities said the quake was felt throughout the state.
The Associated Press contributed to this report.