Brazil's top prosecutor accuses President Temer of corruption, obstruction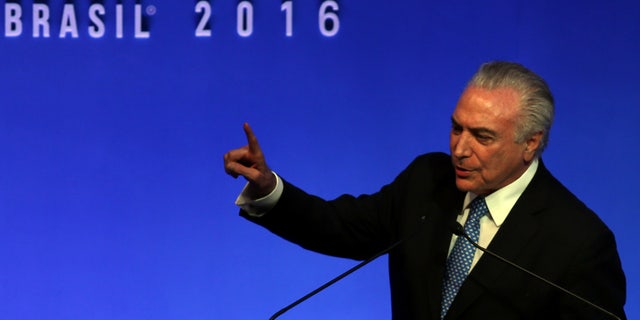 In an extraordinary escalation of a corruption probe that is upending politics and just about everything else in Latin America's largest nation, on Friday Brazil's top prosecutor formally accused President Michel Temer of corruption and obstruction of justice.
The formal accusations are the latest revelations related to a secretly recorded audio that purportedly captured Temer endorsing the paying of hush money to an ex-lawmaker.
REPORT: BRAZIL PRESIDENT TAPED DISCUSSING PAYOFF FOR WITNESS IN GRAFT PROBE
They come a day after Brazil's Supreme Court authorized an investigation into the president, who has denied any wrongdoing and strongly resisted growing calls for him to resign.
Leading lawmakers and a third of Temer's cabinet have already been caught up in the massive "Car Wash" graft probe of systematic bribery in return for political favors and contracts with state-run enterprises.
The incriminating audio was first reported by Globo newspaper Wednesday night, and has been rocking the country since.
Temer's office acknowledged then he had met in March with the businessman, Chairman Joesley Batista of meat giant JBS SA, but denied any part in alleged efforts to keep jailed former House Speaker Eduardo Cunha from testifying.
BRAZIL'S TEMER: 'I WON'T RESIGN' AMID CORRUPTION ALLEGATIONS
His administration has began questioning both the legality and content of the recording, an apparent strategy.
"President Michel Temer does not believe in the veracity of the declarations" in the recording, according to a statement from his office.
The statement also noted that the person who made the recording, JBS meat-packing company executive Joesley Batista, is under investigation and thus was "taking advantage" of the situation.
The AP contributed to this report.