As UN prepares for mammoth Syria aid conference, Assad regime keeps relief from the suffering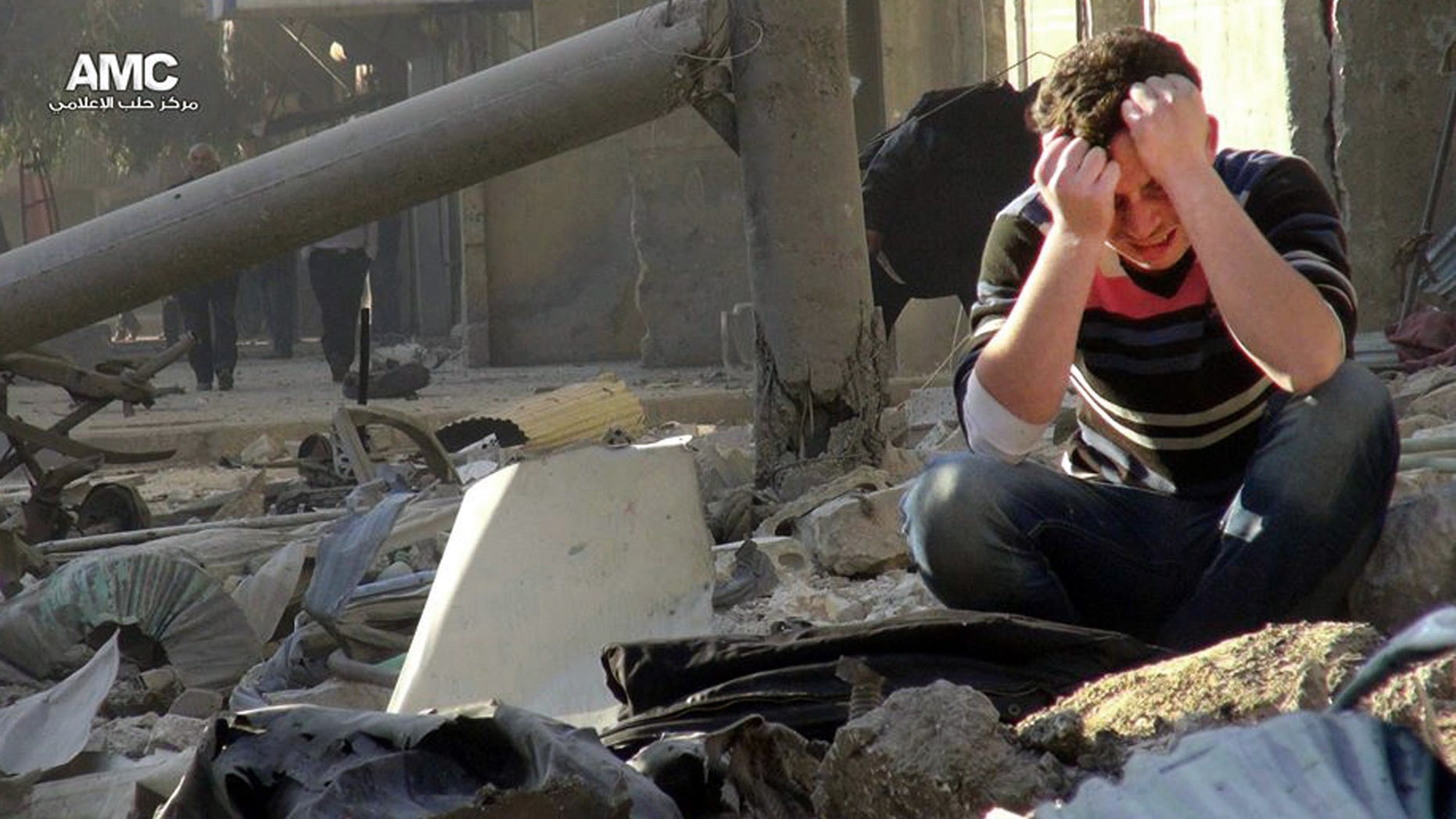 As the United Nations prepares to convene a mammoth humanitarian aid conference next week in aid of Syrian refugees, U.S. officials say the Assad regime is still refusing to allow aid workers and relief supplies through to many of the suffering -- even as it continues to rain death down upon its civilian population.
"We are outraged that humanitarian organizations do not have unfettered and regular access to communities in need inside Syria," a State Department spokesperson told Fox News in response to questions about the aid crisis. "The regime makes calculations about how and when to allow access according to its own interests and there is no evidence to suggest that it places a priority on meeting the humanitarian needs of its people."
"The United States is working at all levels and every opportunity to press the regime and its backers for full access to the populations that the Assad regime has cut off,"  he added.
[pullquote]
So far, however, without much effect.  The Assad regime has made "some improvements in rhetoric," according to another U.S. official, Jeremy Konyndyk, director of the Office of U.S. Foreign Disaster Assistance at USAID, but  "we haven't seen nearly the degree of progress we hope and expect to see."
Despite that, the U.N.'s Office for the Coordination of Humanitarian Affairs (OCHA) hopes  that rich nations will pledge some $6.5 billion for Syrian relief at the U.N. meeting, scheduled to take place in Kuwait on January 15 -- the largest appeal for a single humanitarian crisis in history.  The target is more than four times what the U.N. asked for in a similar appeal for Syria in January 2013 -- and that appeal was only 70 percent funded.
This time, about two-thirds of the huge new pile of required money is aimed at relief for some 4.1 million Syrians who have either fled the country or are projected to flee this year, and are now badly straining the resources of nations now hosting them, including Jordan, Lebanon, Iraq and Turkey.
Some $2.27 billion, however, is aimed at helping some 9.3 million people inside Syria, including 6.5 million internal refugees and "other affected people"-- most of them displaced as a result of the Assad regime's escalating campaign of violence against insurgents.
Those billions, which include substantial amounts of health, educational and development assistance,  will be administered largely by U.N. organizations and non-government organizations that must operate in cooperation with the regime itself. Even in cases where humanitarian aid is being shipped into Syria from other nations, aid officials told Fox News that the signatures of two Syrian Cabinet ministers are required before the shipments can legally take place.
The idea of mingling development aid along with classical humanitarian assistance has emerged as one of the major themes of the latest pledging round for Syria, which aid officials are hailing as a welcome breakthrough -- even though it is also a sign of the enormous and still-growing  magnitude of the Syrian debacle and its impact on the entire Middle East, as well as the assumptions about how long it will likely last.
"The inclusion of development aid is something we think is positive and encouraging," USAID's Konyndyk told Fox News. "The refugee crisis is putting a strain on neighboring countries in a number of definite ways."
More bluntly, a senior member of a private humanitarian organization in the region told Fox News that in the past in Syria, "The divide between development and humanitarian assistance has done more harm than good," in creating an artificial distinction between people who have been displaced and others suffering as a result of that displacement.
Among other things, the humanitarian official said, tens of thousands of refugees in Jordan and other countries are not being housed in isolated camps, but are mingling with normal residents in areas like the eastern section of the capital of Amman, putting additional strains on health and education systems, as well as food, water and medical supplies.
The stresses on local populations vary from host country to host country, but previous U.N. appeals failed to take them adequately into account. The difference this time is that donor countries themselves have been putting pressure on the U.N. to change its approach. "The U.N. response this time around is more robust," the official said.
Whether the new approach will succeed, of course, is another story -- dependent in part on the future course of the Syrian civil war. Nor is it yet known if the U.N.'s huge demands for emergency cash will even come close to being met.
USAID's Konyndyk, for example, declined to say how much money the Obama administration would bring to the table in Kuwait, saying it would be revealed at the pledging conference.
In 2013, the U.S. gave more than $556 million to Syria's emergency appeal, or roughly 40 percent of the $1.4 billion total. When its previous year's giving is added, the U.S. total is about $1.35 billion -- or nearly as much as the U.N. gleaned from everyone in 2013.
The Assad regime's major allies, Russia and China, gave a total of $5.8 million combined in 2013 -- or about 0.4 percent of the total.
CLICK HERE FOR THE 2013  DONOR TALLIES
George Russell is editor-at-large of Fox News and can be found on Twitter @GeorgeRussell