Angela Merkel rules out German military action in Syria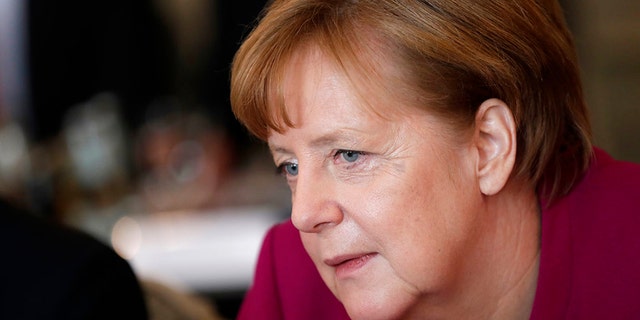 NEWYou can now listen to Fox News articles!
German Chancellor Angela Merkel said Thursday that Germany would not participate in any military action in Syria, although she did say she wanted to unite with allies and support a message that chemical weapons use is "not acceptable."
According to Die Welt, Merkel made the remarks during a press conference with Danish Prime Minister Lars Løkke Rasmussen, saying she wanted to present a united front against suspected chemical weapons attacks by President Bashar Assad.
"Germany will not take part in possible military action — I want to make clear again that there are no decisions — but we see, and support this, that everything is being done to send a signal that this use of chemical weapons is not acceptable," she said.
Merkel controversially opened Germany's borders to refugees fleeing the Syrian civil war in 2015, a move that still remains a contentious political topic across Europe today, and was widely seen to have damaged her party's performance in last year's federal elections.
Saturday's suspected chemical attack took place in a rebel-held town near Damascus amid a resumed offensive by Syrian government forces after the collapse of a truce. Syrian activists, rescuers and medics said the attack in Douma killed at least 40 people, with families found suffocated in their houses and shelters.
President Trump has been predicting possible action in Syria, but appeared to backtrack Thursday when he tweeted that that an attack "could be very soon or not so soon at all."
The president on Wednesday had seemed to confirm future U.S. strikes in Syria when he tweeted that missiles fired at Syria "will be coming, nice and new and 'smart!'"
At the press conference on Thursday, Merkel refused to be drawn into commenting on Trump's tweets.
Trump spoke with French President Emmanuel Macron on Monday about coordinating a response to the attack, and on Tuesday with British Prime Minister Theresa May. The White House said that Trump and May condemned Assad's "vicious disregard for human life" and agreed not to allow the use of chemical weapons to continue.
Macron said Thursday that France has proof that Assad was behind the attacks and did not rule out military action. He said on Tuesday that any French action would target Syria's chemical weapons abilities.
Die Welt reported that a spokesman for Merkel said that she and Macron had expressed their "common concern about the recent use of toxic gas and about a threat of erosion of the international ban on chemical weapons."
The BBC reported Thursday that May has called an emergency cabinet meeting to discuss the UK's response to the attack, and that she is prepared to take action without first seeking approval from Parliament -- a move that would likely anger opposition lawmakers and some in her own Conservative Party.
Fox News' Serafin Gomez, Jenny Bucholz, Alex Pappas and The Associated Press contributed to this report.