Wreaths Across America faces shortage of wreaths for Arlington Cemetery
As part of a holiday tradition that's been called "a celebration of life," volunteers place Christmas wreaths on the tombstones of fallen soldiers at Arlington National Cemetery. But this year, there's a shortfall.
Wreaths Across America, a Maine-based non-profit organization, has, for 25 years now, taken on the mission of placing a wreath on a tombstone of every U.S. veteran laid to rest at Arlington National Cemetery, in addition to 1,200 other cemeteries throughout the world.
While many wreaths already have been donated to the cause, there's still a shortage of 25,000. The group is looking to fill the gap by Wreaths Across America Day on Dec. 16 — the day that each of the tombstones at Arlington, the burial ground of roughly 400,000 veterans, is set to be decked out with a wreath.
Bre Kingsbury, of Wreaths Across America, told Fox News Channel's "Happening Now" last week that reaction to the organization's mission — "Remember, Honor, Teach," according to its website — has been "so overwhelmingly positive."
Kingsbury called the tradition "a celebration of life," and noted that throughout the years, "friends, families, extended friends" have joined in on the ceremony.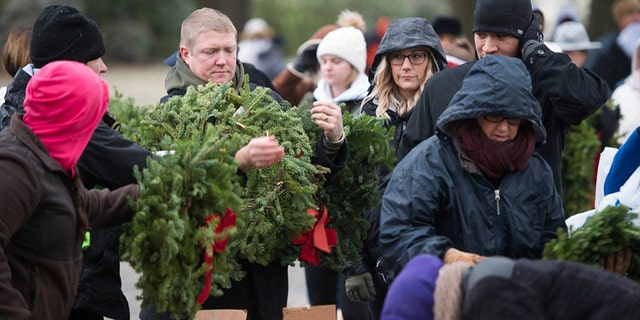 "When we walk the rows of Arlington Cemetery, they're not necessarily well-known names," Kingsbury said. "You know, movies haven't been ... made about their lives, books haven't been written." She added, "These are just ... hardworking, honest Americans that decided to step up and do something that was bigger than themselves."
Kingsbury continued: "So when they make that ultimate sacrifice, we think it's time for the American people to stand up and make sure their legacy and ... their service is honored and respected."
Each wreath costs $15. Those interested in helping out can visit WreathsAcrossAmerica.com for donation and volunteer opportunities.