World War II veteran given 'best Christmas present' by stranger at grocery store
NEWYou can now listen to Fox News articles!
A simple act of kindness by a woman at a grocery store in Florida over the weekend had a World War II veteran gushing he received the "best Christmas present" ever.
George Seney Jr. told FOX35 Orlando he was in line at a Publix in New Smyrna Beach when the woman came over to him and thanked him for his service.
"The lady on the end of the line noticed I was a World War II veteran so she comes over and thanks me for my service and gave me a big hug and said, 'I want you to have a Merry Christmas,' and she put something in my hand," he said.
Seney Jr., who served in the Coast Guard during the war, realized when he looked down at his hand the woman handed him $50.
"I rolled it up and I went back to the lady, I said, 'You made a mistake, that's too much money.' She says, 'No, I want you to have a Merry Christmas,'" he told FOX35. "After I started thinking about it, I said, 'What a gesture.'"
SECRET SANTA PAYS OFF NEARLY $50G OF LAYAWAYS AT WALMART IN NEW JERSEY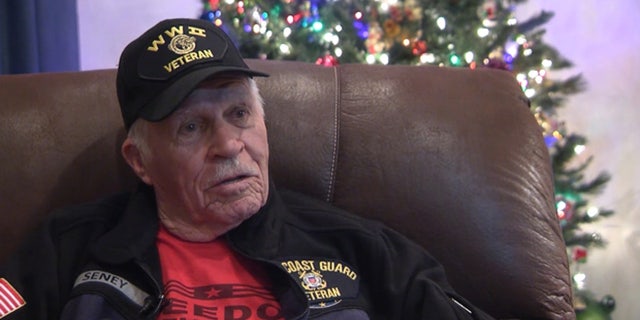 The 93-year-old told his son about the gracious act, which spurred the younger Seney to put out a call on social media to find the woman.
"There's so many bad things going on in the world that I thought it would be nice to put something out on social media and I'd like to find the lady," George Seney III told FOX35.
The veteran ended up donating the gift, but he wanted to make sure she knew her simple gestures had a lasting impact on him.
"I want her to know that this is the best Christmas present I've ever had," he said.