World War II Vet Gets U.S. Citizenship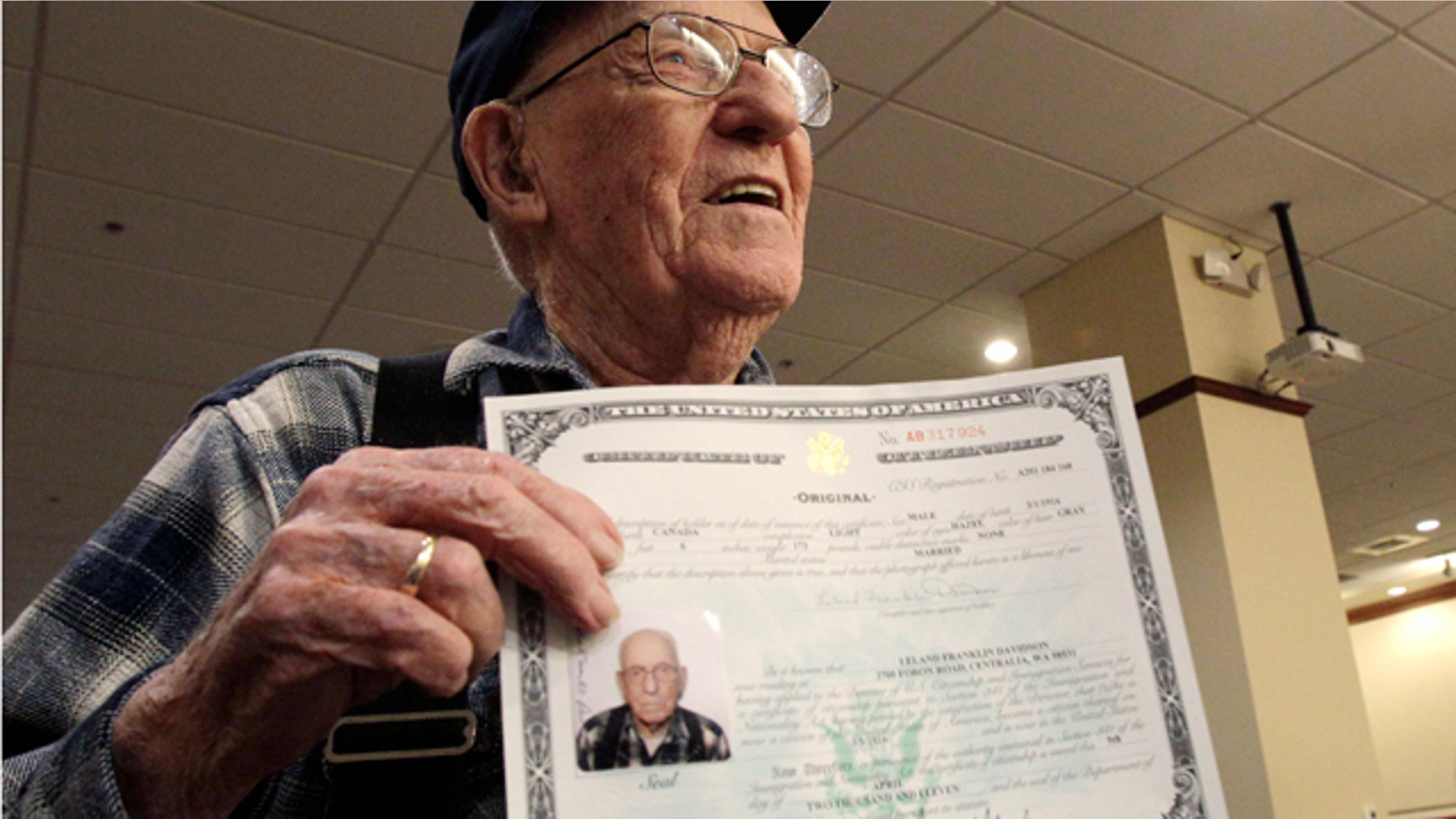 SEATTLE -- Leland Davidson always knew he was an American. Now he has a certificate from the U.S. Citizenship and Immigration Services to prove it.
Davidson, 95, was the oldest of more than 50 people who had their citizenship confirmed Tuesday in a ceremony in Seattle. Most were children of parents who have become naturalized citizens or were adopted from overseas.
Davidson, a resident of Centralia, was born in British Columbia and qualifies as a U.S. citizen because his parents were from the United States. The family moved back to the U.S. when he was 5.
Davidson grew up and served in the Navy during World War II -- another reason he is considered an American.
Wearing a plaid shirt with suspenders and blue jeans, Davidson sat in the front row Tuesday next to Irene, 89, his wife of 51 years.
Looking on were 28 family members spanning five generations.
Davidson said he didn't feel any different after receiving his certificate. However, his daughter Rose Schoolcraft said the ceremony marked the end of a difficult, yearlong process filled with sometimes frustrating bureaucracy.
"It means a lot of relief, we're excited for him," Schoolcraft said.
When the process of trying to document his citizenship began, she said, "we were a little fearful, that he might lose his Social Security, or even be deported."
Davidson recently applied for an enhanced driver's license so he could visit Canada. But when he was asked for proof of citizenship, he had nothing to show but his Canadian birth certificate.
With help from KOMO-TV and Sen. Patty Murray's office, Davidson received an application for citizenship. Then he located proof that his parents were born in America.
After the ceremony, the family planned to celebrate with a dinner out. Davidson said he'd likely have a cheeseburger.
"And perhaps some apple pie," Schoolcraft chimed in.
Davidson plans to hang his certificate on his living room wall along with medals and other mementos from his six-year Navy stint.
Still, he said he'd be glad to be done with all the attention.
"My La-Z-Boy is beckoning," he said.