Woman Turns Ugly Christmas Sweaters into Booming Business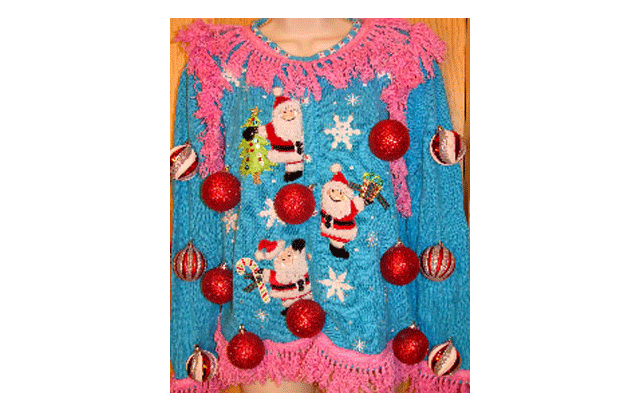 KILLINGTON, Vermont – If you called Ann Marie Blackman's clothing designs ugly, tacky, or gaudish- she would be absolutely thrilled.
That's because Blackman is the owner of My Ugly Christmas Sweater.
The name of the company describes her business perfectly. She collects, repurposes and then sells extraordinarily ugly holiday sweaters, cardigans, and even dresses.
"There's actually a sweater I didn't sell because I love how ugly it is. It's a 1980s padded shoulder with children's toys, a giant Raggedy Ann, a toy box. To me it's like a scary clown. I was going to wear it to a party but I want to add lights to it," she said.
What started as a small home-based business evolved into warehouse filled with fringe, lights, jingle bells, and whatever else you can think of. Her unsightly sweaters ship out in the thousands through her website, myuglychristmassweater.com.
Before she was an ugly sweater selling entrepreneur, she was a stay at home mom.
"A few years ago, my kids were finishing up high school, getting ready to go to college. So I was looking for something to sell during the holiday season," she said.
While searching the internet for ways to earn some extra cash, she came upon the Ugly Christmas Sweater party.
"I had never heard of those parties," she said. "But I thought I could make sweaters uglier than those on the market."
Filled with ambition, she got to work and posted a select number of creations on eBay which were then purchased immediately.
" I knew I was onto something," Blackman said.
Besides being frightfully gaudy and one of a kind, her sweaters are stiff competition for ugly Christmas sweater competitions- nearly guaranteeing your party's prize.
"I try not to use the word 'guarantee,' but I think you're always a contender," she said. "Not everyone wants to be the center of attention. But if you're going to one of those parties, you should be."
"I do get feedback from people who say, ' I won.' One guy said, 'I won the cheese wheel.' It's actually worth spending more for a good prize."
These sweaters make great gifts for just about anyone- your trendy friends, your loved ones - even your enemies.
"People primarily buy them for themselves. Some buy them for their boss for work."
So the next time, your eye catches a really tacky Christmas sweater at your local shopping center or family gathering, keep in mind all of the hard work and love that probably went into it's design.
"There are some really, really ugly fringes that I can get off old fabrics. I buy the scraps that real quilters don't want," Blackman said.
"It's like trash to treasure. I can use that trash to make another treasure."
Click here to read more on this story from MyFoxAL.
[video 1330734645001]