Witness describes how former Texas A&M receiver allegedly slashed jogger to death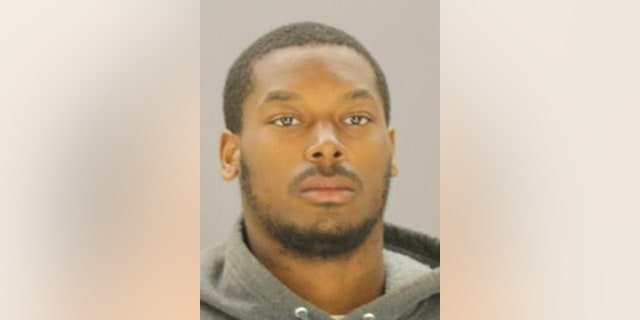 NEWYou can now listen to Fox News articles!
A witness who saw a former Texas A&M wide receiver attack a jogger said the athlete lodged a "large-bladed knife" in the victim's head, according to police documents released Tuesday.
Investigators say Thomas L. Johnson, 21, had recently lost his housing and was angry with his lot in life when he targeted the runner at random Monday on a popular trail in Dallas.
An arrest warrant affidavit says Johnson then approached a nearby man, asked to use his cellphone and called 911 to say the victim "was laying down with a sword in his head and not moving."
Johnson stayed at the scene and spoke with a responding officer, twice saying, "I just committed capital murder," according to the affidavit. It said when the officer asked him to explain, Johnson said only, "It's like when you don't wake up."
"[The jogger] was laying down with a sword in his head and not moving."
The male jogger, whom police identified Tuesday evening as 53-year-old David Stevens, died at a hospital. Johnson was being held Tuesday at the Dallas County jail, charged with murder and two counts of probation violation. Online jail records did not indicate an attorney who could comment on his behalf. An attorney who represented him on earlier charges did not return a message seeking comment.
Just a few years ago, it appeared Johnson would use football as a gateway to fame and fortune.
As a standout athlete at Skyline High School in Dallas, he was one of the nation's top recruits before signing in 2012 with the Aggies. He contributed as a true freshman, playing in 10 games and starting two at wide receiver. His brief collegiate career culminated with three catches in a startling 29-24 road win over top-ranked Alabama.
But Johnson disappeared two days later, failing to appear for practice. He was found a few days later on a street near his old high school. His disappearance was never publicly explained, but he never returned to A&M or football. Johnson's mother, Linda Hanks, told the Houston Chronicle that neither she nor her son wanted to discuss his reasons for leaving.
"Thomas is just a very private person, but he's always been a good kid," Hanks said at the time. "Respectful, accountable and bright."
Texas A&M declined to comment on the murder charge against Johnson, saying in a statement, "This is an awful tragedy for all involved." Johnson has not had any involvement with the football program over the past three years, the school said.
At the time of Monday's attack, Johnson was being sought for probation violations. Court records show that in January he admitted to burglarizing a home and stealing a vehicle. He had broken into his aunt's home last year, stole money and left in her vehicle, court records show.
His aunt said in an arrest affidavit last year that Johnson "has been causing problems in the family for a long period of time."
Records show he had multiple violations of the terms of his probation, including for testing positive for marijuana and failing to complete community service.
The Associated Press contributed to this report.