Will Justify win the Triple Crown? Meet the undefeated colt that could become a horse racing legend
Justfy made history at the Kentucky Derby in May when he galloped through thick clumps of mud to score first-place at the finish line, becoming the first colt since Apollo in 1882 to win the iconic Derby at Churchill Downs without racing as a 2-year-old.
According to Sports Illustrated, the curse of Apollo was one of the "longest curses in sports." Horses had come close to breaking it in recent years but it wasn't until Justify arrived that the superstition was put to rest.
The horse raced to victory at the Preakness weeks later. The race was won by a half-length, with Justify finishing the 1 3/16-mile race in 1:55.93.
Justify is on a winning streak. He's been 5-0 in his brief career, and now he's ready for a chance at a Triple Crown. The horse needs to win the 1 ½-mile Belmont Stakes on June 9 to earn the top horse racing prize.
BELMONT STAKES' TRIPLE CROWN CONTENDER, START TIME, ODDS AND EVERYTHING ELSE ABOUT THE HORSE RACE
If Justify wins Belmont, he will become the 13th Triple Crown champion and the first since American Pharoah in 2015. Here's what you need to know about the prize-winning horse.
Hall of Fame trainer Bob Baffert is coaching him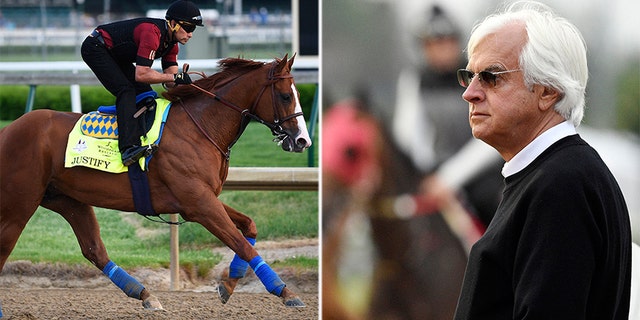 Bob Baffert is hoping to snag his second Triple Crown in the span of just three years with Justify.
Baffert admits no other horse has compared to American Pharoah — his 2015 Triple Crown winner. But Justify may come close.
"His mechanics, his motion, just the way he did it. ... This horse is starting to act like Pharoah," Baffert told The Associated Press.
Justify isn't American Pharoah. He wasn't a 2-year-old champion bred and built to win the Kentucky Derby, Preakness and Belmont.
However, Baffert has seen similarities in his stride, his growth and his potential.
"They're two different type of horses, Pharoah and this guy," Baffert said after the Preakness. "I think I see a lot of resemblance in these two, the way they move. ... When I worked him after the Preakness, American Pharoah, when he would breathe, he was like he was a machine. And this horse is getting there."
Though their running styles and strides are different, Baffert said there is only one thing that matters at the end of the day: they're fast.
"They both could win the Breeders' Cup Sprint and the Breeders' Cup Classic. They're just good horses. They're just superior horses," he added.
Hall of Fame jockey Mike Smith will be riding him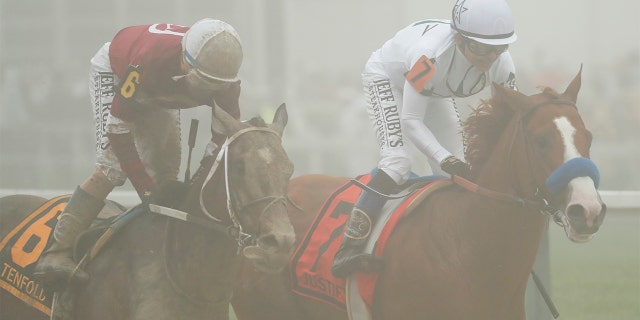 Mike Smith is hoping to win another Belmont Stakes — and help take the Triple Crown in the process.
Smith says Justify is both smart and in great shape.
"He knows when he sees me it's time to do something serious, you know? His disposition's amazing," Smith told the New York Post. "So far he hasn't gotten overheated or get too worried about things. He seems to kind of like all the attention, so to say, somewhat."
Smith, 52, is the second-oldest Kentucky Derby winner behind Bill Shoemaker, who rode Ferdinand to victory in 1986 at age 54. But jockeys say Smith's age is actually an advantage. Trainers are looking for experienced riders to lead their thoroughbreds to victory, and no one knows horse racing better than Smith.
"In my opinion Mike's one of the greatest athletes of our time, any sport," former jockey Jeffrey Bloom told USA Today. "He's in his 50s acting like he's in his 20s. You get asked all the time what your strategy is going to be for a race, but when you have Mike Smith on one of your horses the beauty of it is you can sit back, relax and know that you've put all of that in the hands of the best in the business. Especially in these big money situations, nobody's better."
While he admits, he's older than most, Smith said he takes his job seriously. He's had more than 5,450 career wins, which he credits to his vigorous workout routine and the time he spends getting to know the horses he rides.
"Physical fitness is a part of my life from an early age, and I really stuck with it. I think it's paying off now in the later years," he told the Post.
His sire is Scat Daddy
Scat Daddy is the sire of the chestnut colt, nicknamed "Big Red." Scat Daddy, who ran for trainer Todd Pletcher, died at age 11 in 2015. The thoroughbred horse retired from racing with five wins at the young age of 3 after suffering an injury to his tendon at the Kentucky Derby.
"Scat Daddy got off to a great start at stud and was the leading freshman sire of 2011 with more than $1.5 million in progeny earnings that was good enough to rank third behind Kitten's Joy and Smart Strike on the general 2-year-old sire list," according to BloodHorse.
The Associated Press contributed to this report.